SAINT LUCIA'S first national bank is living up to its shareholders' expectations — and true to its name, its shareholders nationwide are proud that it's done extremely well over the past financial year.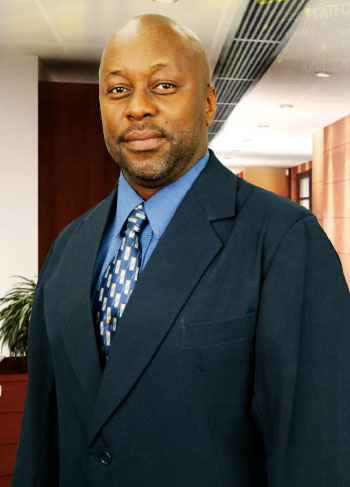 "Ratios are up and non-performing loans are down," says 1st National Bank President Nigel Fulgence, following what has been described as the bank biggest Annual Shareholders Meeting in its history.
The bank's 80th annual meeting of shareholders was held on May 30th at the Finance Administrative Centre at Pointe Seraphine in Castries.
"That was the biggest number of shareholders we ever hosted and the increased numbers was reflective of their increasing confidence, which is why they are buying more shares," the president said.
Fulgence, who was re-elected for a three-year term at the 80th Annual Meeting of Shareholders, said the increased confidence in 1st National "was also reflected in the way they responded to in our $10 million Additional Public Offering last year."
Indeed, some 444 Saint Lucians took advantage of the share offering last September, becoming part owners of the bank and thus signaling shareholder confidence in the leadership and direction of the local institution.
Two directors were returned to office at the AGM, which the President says "is consistent with the fact that our bank is run on the basis of Best Practices, as it relates to Corporate Governance."
Ms Geraldine Lendor-Gabriel was also returned as Vice President, while career Civil Servant Agosta Degazon and Accountant Derek George were the two new shareholders elected. Other directors include Brenda Floissac-Fleming, Johnson Cenac, Adrian Augier, Richard Monplaisir, Tedburt Theobalds and Jennifer Remy.
The meeting also approved a 20-cents dividend share that was unanimously sanctioned by shareholders.
According to the President, "All key performance indicators are signaling a trajectory of increased growth in 2018 and we are in a prime position to unlock the many opportunities to come."
He continued, "One of the potential growth opportunities is the Micro Small and Medium Enterprises (MSME) sector.
"Micro business are the drivers of economies. We have the statistics and know what that sector has done for developed countries and how creating the right environment in terms of finance and technical expertise can impact positively thus allowing them to grow.
"It is important to remember that in some point in our history we too were a small business as well and it is in this vein that we have made a deliberate decision to offer the same opportunities we were offered to others coming up."
1st National Bank has indeed made its mark since it was established on December 13th 2005. It was the first bank to introduce Mobile Banking on the Saint Lucia market.
It also has the most branches within the island's financial landscape — six branches and one Bureau De Change between Rodney Bay in the north and Vieux Fort in the south, each with a 24-hour ATM service.
Robert Fevriere, the bank's Executive Manager for Marketing and Public Relations, echoes the President's sentiments.
"The bank continues to experience growth in a market that is fiercely competitive," he says, adding that "One can attribute (this growth) squarely on the shoulders of those who have gone before and set the foundation, as well as excellent oversight on the part of the current Board of Directors."
Fevriere was referring to the fact that the roots of 1st National were planted 80 years ago in January 1938, when five Saint Lucians, with just $50,000, established the Saint Lucia Cooperative Bank Ltd – the island's first locally-owned bank. Today its assets stand at over $600 million.
Back then, born Saint Lucians were finding it difficult, if not impossible, to get access to banking services from the only colonial bank operating on the island.
Between then and 2005, the Cooperative Bank not only became Saint Lucians' favourite bank by far, but it also broke the glass ceiling in the local banking landscape when Ms Almita Simmons became the first woman Manager and later the first woman Managing Director and businesswoman and former senator Charmaine Gardner became its first President.
The bank's current Managing Director is Mr Johnathan Johannes, who, according to President Fulgence, "possesses the requisite leadership skills, commitment and talent to steer the bank on a course to achieve its vision."
For yet another year, 1st National Bank has recorded an increasing profit trend, from a small loss of $0.2 million in 2013 to a profit of $3.5 million four years later.
Shareholders' Earnings Per Share have also jumped from 29 cents in 2017 to 66 cents last year.
The level of non-performing loans fell by 3% in 2017, a significant improvement over 2016.
The bank also posted a 7% growth in total assets over 2016, registering the 2017 figure at $672 million.
The theme for the 80th shareholders meeting was 'Unlocking Opportunities' and Fulgence says 1st National Bank is well poised to do so for its shareholders, customers and all Saint Lucians in the future.
He told The Voice: "The International Monetary Fund is forecasting improvement in global growth of 3.9%.
"We are not certain to what extent our small island state will benefit from this growth, but we remain committed to positioning the bank to maximize our benefits from any and all opportunities that present themselves."