PRESS RELEASE – MAYOR of Castries, His Worship Peterson D. Francis has expressed great appreciation to the Freewinds for 30 years of philanthropic commitment to the island.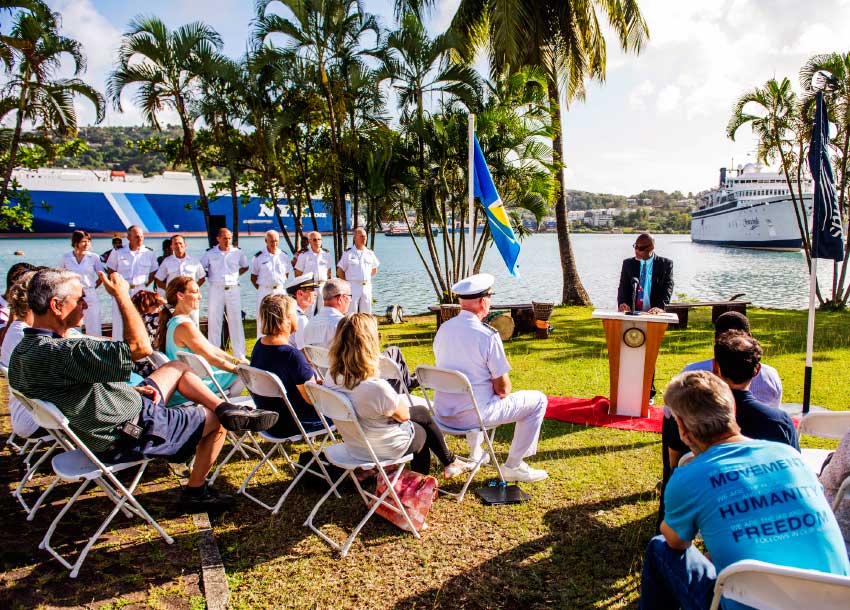 The Freewinds cruise ship was recently recognised at a special celebration at Heroes Park in Castries with the unveiling of a special monument dedicated to the ship in recognition of its 30th anniversary of its maiden voyage and 30 years since the ship's first call to St. Lucia.
The ceremony was commissioned by the Mayor of Castries, His Worship Peterson D. Francis.
Speaking at the unveiling ceremony, Captain Mike Napier says the Freewinds is the longest continuous cruise ship to St. Lucia which has played an active role in the community over the years, providing numerous fundraising activities on board, as well as providing social improvement programs to the island.
Mr. Matthew Beaubrun, CEO of Cox & Co. Ltd., explained that he has had a long-term relationship with the Freewinds, starting before the shipping agency began representing the vessel here.
In addressing the audience, Mayor Francis expressed that the moment was historic given the level of contribution to the island.
"Let this small monument, along with the engraved plaque, further strengthen the Freewinds team in contributing further towards your humanitarian efforts and the development of St. Lucia. This recognition although small, it is surely deserved. 30 years of the Freewinds coming to St. Lucia, let's look forward to 30 more years," said Mayor Francis.
The monument was unveiled by Mayor Francis and Captain Mike Napier to the applause of the audience. (CCC)