LEFT-ARM orthodox spinner Simeon Gerson topped the Sandals Cricket awards as the curtains came down on the inaugural Saint Lucia National Cricket Association 50-over Sandals Cup at an awards ceremony that took place on Monday 4, June at the Sandals Halcyon Hotel.
In attendance were Sandals Managing Director Winston Anderson, General Manager Sandals Halycon Beach Resort Christopher Elliot, General Manager Sandals Regency Gaurav Sindhi, Regional Public Relations Manager Sunil Ramdeen, former West Indies captain Darren Sammy, President of the SLNCA Julian Charles, SLNCA Operation Manager Brian Calixte, members of the champion team Gros Islet along with head coach Alton Crafton and members of the media.
Gerson picked up the following awards: MVP of the Finals, Tournament's Overall MVP and bowler with the most wickets, 23.
In other awards presented: Most Runs (265) went to Kimani Melius (Gros Islet).
Man of the match – Quarter Final: Central Castries versus Mon Repos – Ryan Joseph; Gros Islet versus Vieux Fort – Garvin Serieux; Babonneau versus Soufriere – Quaine Henry and South Castries versus Choiseul -Emmerson Charles.
Man of the match – Semifinal: Gros Islet versus Central Castries – Dane Edward and Babonneau versus South Castries – Akeem Auguste.
The championship trophy and gold medals went to Gros Islet (plus $2,500), runners-up Babonneau received $1,000 and the two losing semifinalists South Castries and Central Castries each received $400.
The feature address, which was inspiring, was delivered by former West Indies Cricket Captain Darren Sammy.
Sammy said, "As champions of the inaugural tournament, I urge you to continue working hard. You have just started your craft. You work hard and with discipline you will get rewarded.
"Kimani Melius is a typical example. By working hard, he went on to represent the West Indies in the ICC Under-19 cricket World Cup. He was not in the original squad, but he got the opportunity and he made the best of it."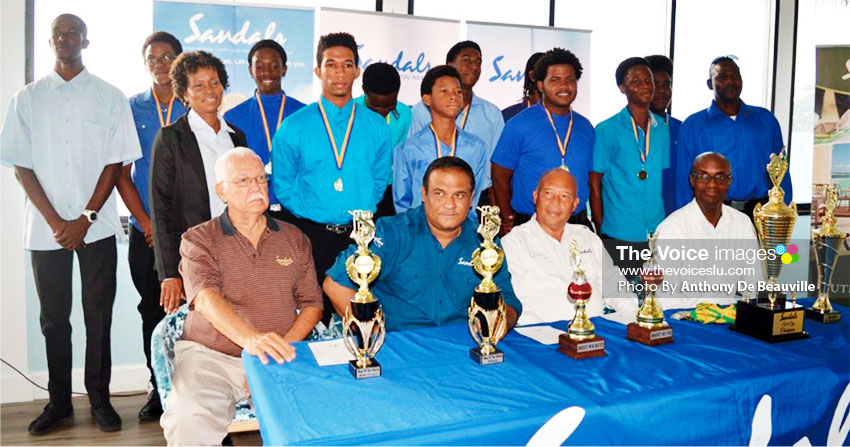 Sammy told the young cricketers that cricket has given him everything he presently has in life and obviously he has worked hard to achieve it.
He said, "I used cricket as a means to make myself and my family better."
"Your parents could only set the paths for you, but as an individual you in turn have to repay them by making them proud, back then that was my goal." Sammy noted.
He said, "Too many times I see our young cricketers… They are happy to just tour Dominica. But is that it? No! That cannot be it.
"Sometimes where we come from does not dictate what we can do in life. It's all up there in the mind. Not even my parents thought I would become a West Indies player one day."
The former West Indies captain said, "At your age, or even younger, I wanted to be the first Saint Lucian to make the West Indies team. I see Junior Murray getting land, car and free gas and I am in Saint Lucia every summer school holiday, I have to carry bananas.
"Cricket was that vehicle that allowed me to do that. I surpassed my dreams. I became West Indies captain. I tell people right now I am at peace. God has been good to me, cricket has been good to me, the hard work that I put in has paid off — and you are the future."
Sammy asked the young cricketers: "Who will be the next person to make Saint Lucians stay up late at night cheering for that person? How many of you will want to do that? How many of you are willing to put in the time, effort and sacrifices to get it done?"
Following their answers in the affirmative, he said, "Saying it is one thing, but actually doing the work is even harder. Just in case you thought you got into the West Indies Under-19 team so that is it. No! After the U19, there is the Senior team. How are you going to break through to the Windward Islands senior team? It is not an easy game and not all of you will make it. But if you practice hard in training, it will help you in life. I encourage you to be leaders — you don't have to be captain."
Also addressing the gathering was Sandals Managing Director, Winston Anderson, who said, "Sandals International has always invested in the future of our young in Saint Lucia and we are acutely aware that sports — and in the case of cricket — is a powerful vehicle for our young stars to shine."
He continued, "For years we have supported cricket and this year we wanted to do something with a broader appeal and impact, the same way we have supported the Tiger Tennis programme, as well as the Trevor Daniel Football Camp and the young golfers programme."
He told the players that, such initiatives emphasize youth empowerment through education, discipline and dedication to sportsmanship on and off the field.
Anderson said, "At Sandals our motto is, 'We never give up and when the going gets tough, we get going' — and cricket is all about that. In fact, we have in our presence a gentleman who represents and lives that very ideal. Darren Sammy took the mantle of West Indies cricket at one of our lowest period and through sheer will he led us to where we became World Champions once more."
"We believe that Darren is only the first of many success stories and we look forward to all of you taking up the baton and run with it. The same way we are hoping to work with SLNCA in the coming years to help raise the bar for local cricket, not just at the Under-19 level, but beyond as well," Anderson noted.
West Indies opening batsman and Gros Islet Under-19 captain Kimani Melius took the time out to thank Sandals for giving the young cricketers of Saint Lucia the opportunity to compete. He said, "We are indeed appreciative and look forward to many more of these tournaments to come."
Melius also thanked the technical staff and players, singling-out Simeon Gerson for his sterling contribution throughout the tournament, as well as Garvin Serieux and Dane Edward for scoring respective centuries — and all the other players who played their part.
He said, "No team has really challenged us in this year's tournament. I am hoping in 2019, we get a team that will take us all the way."
The 2018 victorious Gros Islet Under-19 cricket team is: Kimani Melius (Captain), Dane Edward (Vice Captain), Garvin Serieux, Jard Goodman, Simeon Gerson, Lee Solomon, Dominic Auguste, Rene Montoute, Stavone Gabriel, Zidane Arthur, UdelPreville, Jehan Boodha, Rumario Simmons, Qiana Joseph, Tyrel Chicot, Denzel Albert, Kymani Sexius, Sophia Gerson -Team Manager, Alton Crafton and Allian Ashby – Team Coaches.