Sailing Into Sunny Retirement!
A very familiar face at The VOICE Publishing Company will no longer be seen come the end of this month.
Ms Marie Joy Fanus, one of the most-beloved employees, will be saying her goodbyes to management and staff next week, as she sails into the sunset of retirement.
But get one thing right: It's not a retirement to sit in a chair and do nothing. Ms Fanus, who is just three months shy of her 76th birthday, plans to do a lot of moving around at home.
"I won't be at home looking at the ceiling. I will be moving around, despite suffering with my knees," she said.
Ms Fanus, as she is universally known, is currently the longest-serving member on staff. She started her employment journey on 8 March, 1972 and her 46 years of unbroken service to the company ends next Saturday.
A shy and diminutive woman, Ms Fanus, in times past, was the expected face to see on entering the building because of her punctuality over the years. The constant "good morning Ms Fanus" from staff as they enter the building on a morning could be clearly heard down the hall all the way to the Editorial Department.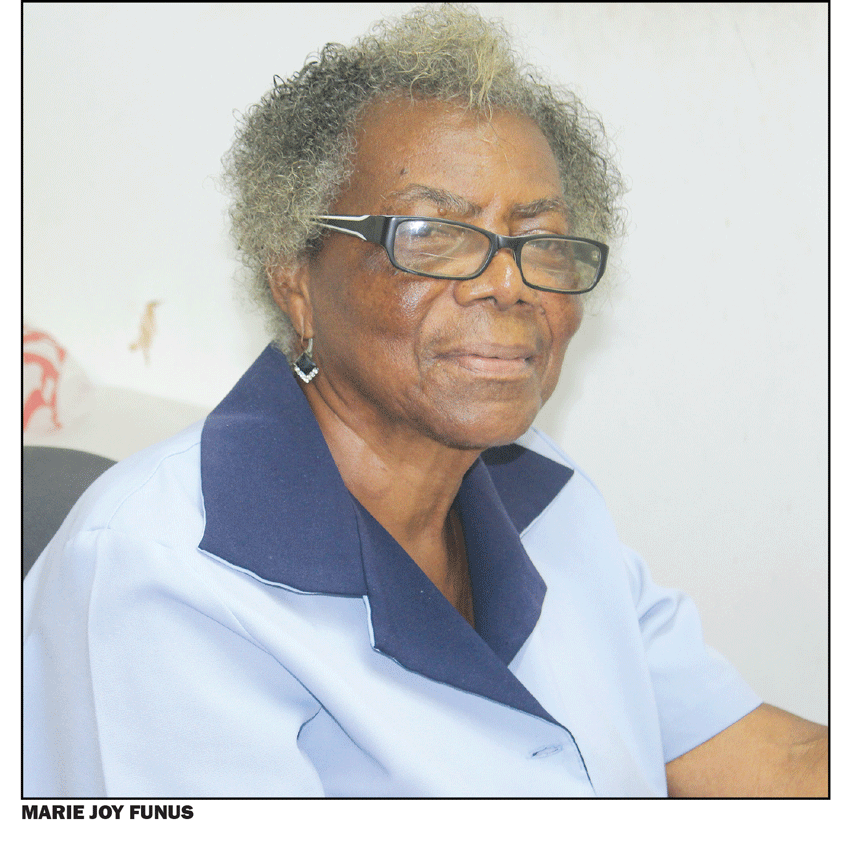 Ms Fanus has probably received the most "good mornings" of any another member of staff in recent times, setting perhaps another record at The VOICE.
But setting records is not Ms Fanus' thing. She is all about the people she worked with in the past and those she currently works with, to the point that when she was offered another job at a financial institution many, many years ago she turned it down, preferring to stay with The VOICE.
"There's something about The VOICE back in the day — and even now. I like working there. I like the job I do. I like the people I work with," Ms Fanus said.
And her colleagues simply love her as well, as noted by the comments made by many of them on learning that Ms Fanus has just a few days left with them.
"An incredible warm personality is Ms Joy Fanus," said Anne Pierre from the advertising department.
According to Anne, she has known Ms Fanus for over 20 years — someone who always had time for her when she needed a listening ear.
"On the job, Fano was never too busy to assist, to explain or contribute towards solving any difficulty that arose. Soft-spoken but efficient, she has been one of the most dedicated employees I have had the pleasure of working with. I wish her the very best in her years of retirement," Anne said.
In fact, Financial Controller Vilan Edward concurs with Anne's sentiments. A long-serving employee of The VOICE as well — and the one Ms Fanus reports to — Edward said that Ms Fanus "has a methodical way about going about her tasks, ensuring that before she leaves her work station for the day, all her tasks are completed."
"She is meticulous and committed to her job. She has a love for her job, something not easily seen these days. Her relationship with her job is like a marriage. And her brain is in impeccable condition," Edward said.
Ricky Allain, who heads the IT Department, said that over the years he realised that Ms Fanus dedication to her job was out of this world.
"Even when she is sick she's here, putting the company before herself. I wish her the very best," Ricky said.
But Ms Fanus was not always the cashier at The VOICE. She is a living history of the company. She recalls working here when the VOICE was located on Bridge Street in Castries, with its own bookshop. She spoke of a process where most work had to be done by hand in order to produce the final product – the newspaper.
She could speak and tell stories of past employees — some still alive but no longer with the company — and of others long deceased.
Ms Fanus even dabbled in proof-reading at one time during her long journey with the company.
Not many people know why she ended-up working in the accounts department – and it's a story she is not telling. (But she told the story to this reporter who is not sharing it…)
Suffice to say, she is happy in the cubicle at the top of the stairs, where she is always greeted with "good morning Ms Fanus" by members of staff – and visitors alike.
Not many people can say they spent 46 unbroken years with a company, but Ms Fanus can. And now it's our turn to turn all our 'Good Mornings' into one Big Goodbye!