IT won't be long before Daren Sammy starts appearing for St. Lucia Stars at this year's Hero Caribbean Premier League (CPL), which gets underway on Wednesday 8th August.
As an all-rounder who is still very much in demand, Sammy is far from done with playing cricket. But he has started thinking about what he will do when he does hang up his boots.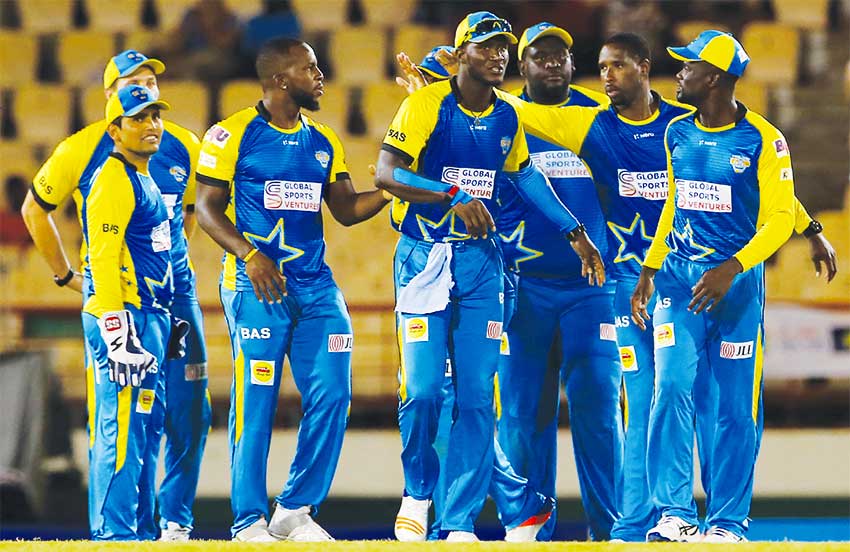 He explains, "A few of the franchises that I've played for want me to venture into coaching and mentoring. It's something that I've spoken to my manager about, but to be honest, with a young family coming up, I'll probably take a couple years off, raise my kids and enjoy life with my family, because I've been on the road for like forever."
He continues, "I'll watch my kids grow, get to see them take out a tooth and enjoy stuff like that, and in between definitely and probably mentoring. I don't want to spend all this time away from home anymore… With the income acquired over the years, I just have to make sure it's in the right places and in investments that could sustain me and my family for my remainder of my days on this earth."
It was a difficult year for the St. Lucia Stars in 2017, the team failing to win a match, their only pointscaming from an abandoned game at Warner Park in St. Kitts.
Sammy says they just never got going, but this year there is an almost completely new squad, with Sammy one of only five players that appeared last season.
"I think we just never jelled as a team out there. To start off, we missed a few key players — LasithMalinga pulled out, David Miller pulled out and Shane Watson was injured for the first three games of the tournament.
"We just never came out of the blocks. The race was finished and we still didn't get out of the blocks.
Sammy continues, "I always say cricket has always been a team sport, but you need individual performances. We didn't get that. We probably could bring in some changes to the franchise to make it better. So, I'm actually looking forward for this season and see what it brings."
Sammy was relieved of the captaincy of the Stars halfway through last season and for CPL 2018 and he says his focus this year is solely on his own on-field performance.
"Well, to be honest, this year I've taken a backseat in the planning. Obviously, things didn't go well for us last year and I won't be the captain of the franchise.
"I'm staying away from all this decision-making. I will focus my energy in performing on the field, obviously helping the captain and trying to win games for Saint Lucia, especially when we are at home playing in the Daren Sammy Cricket Ground."
As someone who has had a huge amount of success in T20 cricket, not least captaining Windies to two World T20 titles, Sammy is well-placed to explain why Caribbean cricketers have done so well in the format.
He explains further, "Well, I think the style of play — when you see a West Indian you think of flair, you think of excitement, you think of entertainment and that's what T20 is about.
"The brand of cricket that we've played — we've been playing T20s from way back. Sir Garfield Sobers and these guys they batted like T20. Sir Viv Richards, the flair in which they played.
"When everybody was striking at sixty-something, Sir Viv was striking at 80 or 90. So, we've always played that fast-paced brand of cricket and it's just that our generation is just blessed that T20 was introduced during that same period."
According to Sammy, "I think it's been that way for the last decade… It's been what's keeping West Indies cricket still as a powerful brand, because we've failed at Test Matches, we've failed at One-Days, but we've excelled at T20s. Our team gets in to the playoffs for so many T20 finals.
"I think except when we've played in the Caribbean, we were in the semi-finals for all the T20 competitions that we've played. It's just a format of the game that suits our Caribbean people."
Asked what makes Hero CPL so special, Sammy says there are so many elements that combine to make it a unique tournament.
"CPL is a very great brand. It's where you get all the West Indians playing at the same time… Mix the internationals with that, plus you're in the Caribbean…
" I don't think there's any other cricketer in the world who would not want to tour the Caribbean — beautiful place, blue sea, white sand, amazing people, amazing food — it's like you're on a vacation and that's the type of atmosphere CPL brings.
"Plus, the cricket is exciting, the fans won't enjoy a cricket game like that anywhere else than in the Caribbean.
"We're just unique in the things that we do, the way we celebrate and CPL is a growing brand.
"I would love for St. Lucia to win this one coming. We've not really represented ourselves well enough, but hopefully this year we can raise the trophy.
"It's a competition that keeps on growing, keeps on producing young cricketers — and hopefully that could filter into international cricket, where we can start producing cricketers who could go on to play well for West Indies." (CPL)