PRESS RELEASE – MAYOR of Castries Peterson Francis received an extremely warm reception at the Chamber of Commerces' Executive Luncheon held at the Bay Gardens Hotel on Thursday 7th June, 2018. The interest in hearing from the Mayor was evident as over sixty Chamber Members booked to attend and an additional table had to be found for walk-ins.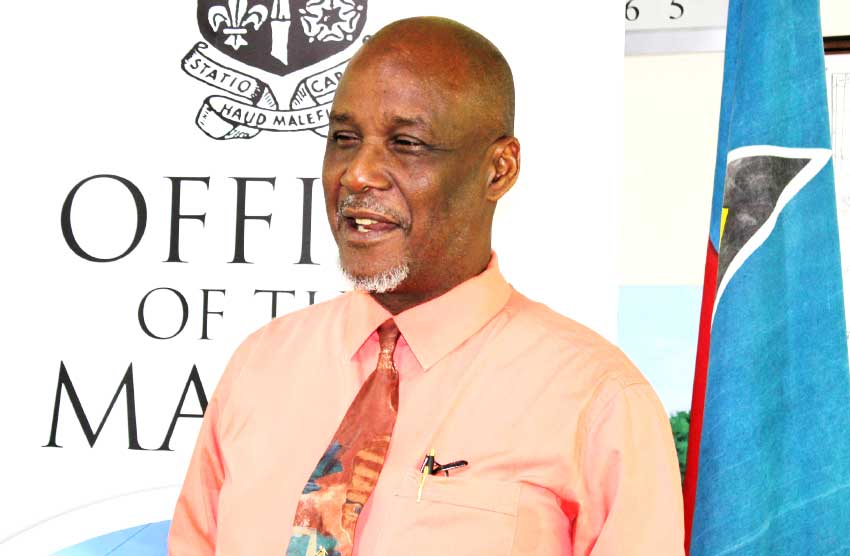 However, before the Mayor took to the lectern, Mr. Alison Mathurin of the St. Lucia Social Development Fund was given an opportunity to make a case before the representatives of the leading firms on the island, as he outlined with an excellent video, the work the body was executing in helping the less fortunate. The SSDF outlined programs to which firms, could contribute to help eliminate poverty on island. This presentation was extremely well received by Chamber members.
The Mayor when he took his turn at the lectern, grabbed attendees attention with his direct approach, "I am not about talk, I am about action and getting things done." Without sounding boastful, Francis outlined the progress the Council had attained in the 22 months in office, while admitting that their work required some tough, uncompromising decisions. He went on to outline the broad strategy and objective of the Council while pledging continued hard work and determination in the face of criticism and resistance by some.
The Mayor would have left the Luncheon buoyed by calls from attendees for more support for the Council from residents and businesses alike to join the efforts at revitalizing the City. Questions on the state of the Castries Cemetary, Vagrancy and the Castries Market where deftly answered by the Mayor. One notable contribution from a cruiseline representative was "there were zero reports of crime against cruise ship passengers in Castries during the last cruise ship season. The Mayor gracefully acknowledged as he had earlier informed the Luncheon, that the City now enjoyed three City Police shifts providing twenty four hours security.
The Chamber thanked the Mayor and the Castries Constituency Council for their outstanding work and pledged to continue to work with them. The Luncheon ended with the Executive Director alerting members of the upcoming CIP Presentation in Vieux Fort on June 20th, the Insurance Syposium also in Vieux Fort at the end of June as well as the Power Breakfast, HR Connect with Harvi Millar on June 22nd at Coco Creole. (CCC)