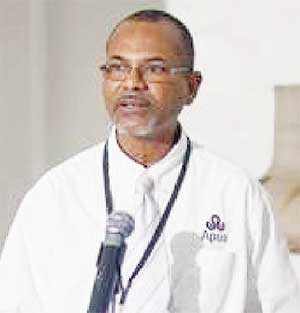 THE Caribbean Water and Sewerage Association (CAWASA) has expressed shock and surprise at the sudden death of one of its directors.
On Saturday, June 9, CAWASA's Executive Director Ignatius Jean learned of the passing of Mr. Ivan Rodrigues, Manager of the Water Business Unit of the Antigua Public Utilities Authority (APUA).
According to the Executive Director, "We cannot express the sadness we feel at this time.
"We remember Ivan for his leadership, enthusiasm for new ideas, as well as for his commitment to building strategic relationships among the water and wastewater utilities and industry professionals in the Caribbean."
Mr. Rodrigues was a Member of the Board of the Directors of the CAWASA) and Vice President of the Caribbean Water and Wastewater Association (CWWA).
According to Mr Jean, "His conviviality and leadership will be missed by all of us at CAWASA and his numerous Caribbean and International connections."
Tribute was also paid to Mr Rodrigues by Mr. O'Reilly Lewis, Division Chief, Economic Infrastructure Division, Caribbean Development Bank at the opening of a Workshop on Climate Resilience in the Water Sector, at CDB Headquarters, Barbados, June 13 – 15, 2018.
Mr Lewis told his gathered associates, "Many of you would have heard about the untimely passing of a regional stalwart in the water sector – Mr. Ivan Rodrigues, a soft-spoken man, a deep thinker, effective manager and dedicated professional.
"I had nothing but respect and admiration for him.
"As president of the CWWA, I proactively courted Ivan to serve as my vice-president on the CWWA executive a few years ago. I had great expectations for CWWA under his leadership planned for the upcoming two years.
Mr Lewis concluded that "Ivan's passing is a major loss to the sector" and those assembles paid their respects by standing for a moment's silence." (CAWASA)