PRESS RELEASE – BANK of Saint Lucia staff went all out in observance of Lupus Awareness Month in May. The Financial Centre Staff Activities Committee led the charge by collaborating with the Saint Lucia Arthritis and Lupus Association (SLALA) to undertake a number of activities. Bank staff were eager to lend their voices to the ongoing awareness and public sensitization efforts.
Lupus is chronic yet complete autoimmune disease, which affects joints, skin, brain, lungs, kidney and blood vessels, resulting in widespread inflammation and tissue damage in affected organs. Lupus has affected many households across Saint Lucia, including Bank staff, which compelled them to spring into action.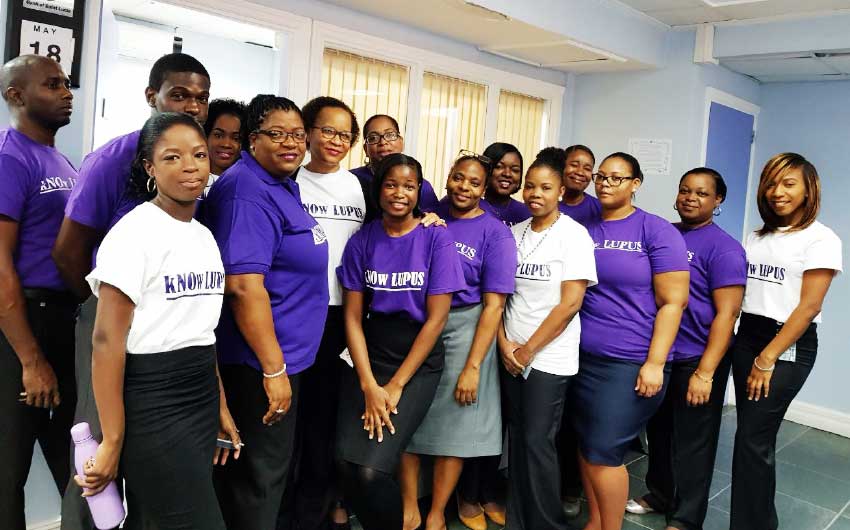 From going pink in support of Breast Cancer awareness in October, Bank of Saint Lucia went purple in May! "Put on Purple Day" was observed on Friday May 18th, however all Fridays in May became seas of purple across the branch network of Bank of Saint Lucia and the EC Global Insurance Agency with two hundred staff members opting to purchase and don "kNOw Lupus" themed t-shirts as part of the awareness building activities.
An exhibition display was erected in the main hall of the Financial Centre with information pamphlets and brochures for the benefit of customers and the general public. In addition, donation cans were placed at all branch locations to support ongoing donations towards the awareness efforts. The proceeds of t-shirt purchases and donation can collections were in aid of the Association.
To culminate Lupus Awareness month, the staff of the Financial Centre welcomed Dr. Amanda King of the St. Lucia Arthritis and Lupus Association who delivered an educational and informative presentation.
Bank of Saint Lucia extends special thanks to the Association for the opportunity to collaborate, and reaffirms its commitment to supporting the ongoing awareness raising efforts. For more information on lupus, please visit: www.lupusawarenessmonth.org or follow the Saint Lucia Arthritis and Lupus Association Page on Facebook. (BOSL)