PRESS RELEASE – THE people behind the accolades which two of St. Lucia's storied resorts chalk up one year after another were recognized at a special awards ceremony last month.
Anse Chastanet and Jade Mountain resorts, located in the former French colonial capital of Soufrière, shone the spotlight on outstanding members of staff who have contributed to the success of the award-winning upscale properties.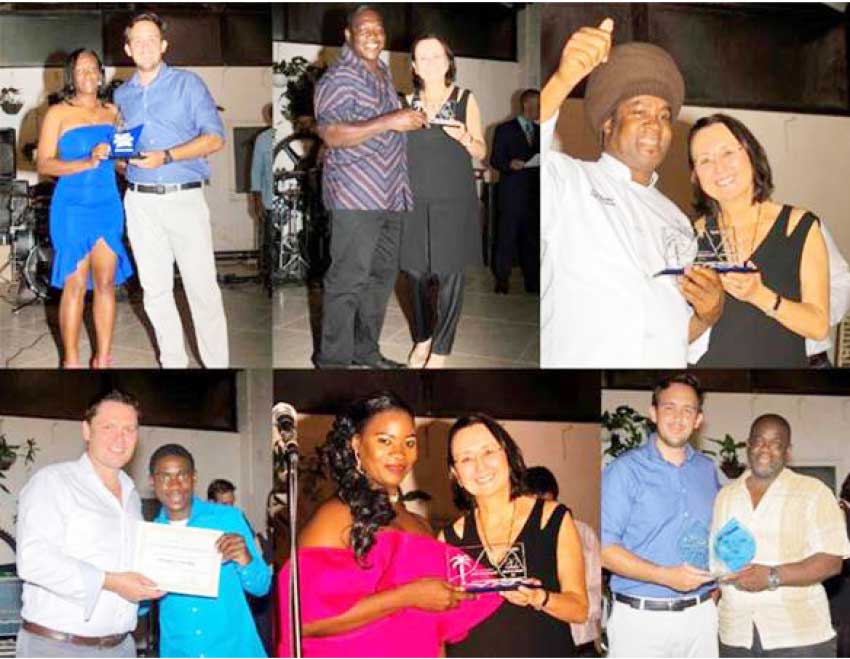 In addition to recognizing the staff for their commitment to the LEED Gold certified resorts, the management team presented its top Chairman's Award to Callistus Jackson of the Scuba St. Lucia team for his stellar performance. Jackson, who has been a Scuba St. Lucia PADI Instructor for 18 years, has certified more than 500 students and has logged over 4,000 dives.
Jacqueline Antoine and Caesar Prescott were named Employees of the Year for AnseChastanet and Jade Mountain respectively, while Executive Housekeeper Marlies Piltie received the Manager of the Year award.
The twin resorts, with impressive views of the famous Pitons mountains, also acknowledged the outstanding work of Natasha Clavier Prevot and Roger Lewis, who received the distinction of Supervisors of the Year. Prevot is the supervisor for Adventure Sports at AnseChastanet and Lewis is Jade Mountain's security supervisor.
The Team Spirit award went to Kenton Clavier with Adventure Sports and Clarence Henry, who supervises the grounds at Jade Mountain.
The White Glove award went to housekeepers Bernice Regis at Anse Chastanet and Sandra Mathurin at Jade Mountain; Hermanus Gill and Kerius Bertin were both recognized for their contributions to the kitchens; while Frances Lamontagne and Pamela Jean were recognized for being with the company for more than 35 years. Reservations Supervisor Elizabeth Pamphile and Property Manager Carl Hunter received special Owner Appreciation Awards.
"It is very important that we take time each year to recognize our St. Lucian staff, our world-class leaders in hospitality," said Nick and Karolin Troubetzkoy, the resorts' owners and founders, in a joint statement.
"The success of our resorts, the accolades that we win, the environmental standards that we set, the guest satisfaction reviews that we receive and the ability to make a difference in our community – these are all possible because of the talented and dynamic team who perform at their best each day here at Anse Chastanet and Jade Mountain. We are indebted to them."
Both Anse Chastanet and Jade Mountain Resorts have received numerous accolades over the years from leading organizations such as CNN Travel and USA TODAY to Condé Nast Traveler and Travel + Leisure.