THE Saint Lucia Olympic Committee will send a team of 13 athletes, representing six sporting disciplines, to the 23rd edition of the Central American and Caribbean Games to be held from July 19th to August 3rd, 2018 in Barranquilla, Columbia.
This is the second consecutive outing where Saint Lucia will be represented by six sporting disciplines at the games.
Earlier this year, the Saint Lucia Olympic Committee sent a 15-member team to the Commonwealth Games on the Gold Coast in Australia and they returned with a single medal — Levern Spencer taking gold in the women's high jump with a height of 1.95 metres.
Four years ago, a 14-member team represented Saint Lucia at the CAC Games in Vera Cruz, Mexico – and again Levern Spencer saved the day for Fair Helen by winning the Gold in the ladies high jump.
Spencer, who turns 34 today, will lead Saint Lucia's charge once again — and the Caribbean record-holder will be seeking to become Saint Lucia's first triple-champion at this level.
For track and field, Spencer will have alongside her Albert Reynolds in the men's javelin (at the Commonwealth Games in Australia he finished 9th with a throw of 73.87 metres), while Martinique-based Saint Lucian Sandisha Antoine will compete in the ladies long jump and triple jump, respectively.
In swimming, Jean Lux Zephir will compete in the 50-metre freestyle and 50-metre backstroke and Katie Kyle in the 50-metre and 100-metre fly. (Both represented Saint Lucia at the Commonwealth Games in the Gold Coast, Australia.)
Saint Lucia also qualified in men's and women's beach volleyball, despite failing to participate in the NORCECA Beach Tour in 2017/2018. Augustin Faulkner and Tevin St. Jean (male), Tyna Williams and Jamilla Lansiquot (female) will do battle in national colours.
Saint Lucia double-gold-and-silver medalists at the OECS Boxing Championships, the Creole Boxing Championship and the Caribbean Developmental Championship held here last year, Nathan Ferrari and Lyndell Marcellin, were also able to qualify for the games in Columbia. (The two boxers also represented Saint Lucia at the Commonwealth Games in Australia.)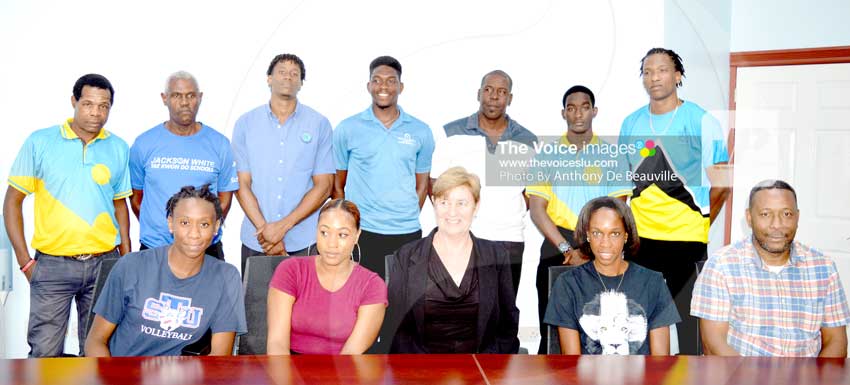 This is the second time a female sailor will represent the nation at the games. Stephanie Devaux-Lovell has gained a great deal of experience, having competed at the World Championships, South American Championships and the 2016 Olympic Games in Rio. She is no longer a teenager, but Stephanie is looking to put that knowledge to good use in her quest to win a medal this time around.
The sixth and final sport in which Saint Lucia has a natural qualifier is Taekwondo, with Nisso Etienne. This is the second time since 2002 in El Salvador that Etienne will be representing Saint Lucia at the Games.
In this year's edition, close to 5,854 athletes from 37 countries will compete in 460 events.
The officials travelling with the team to Barranquilla, Columbia include: Chef de Mission – Joyce Huxley, Boxing Coach – Conrod Fredricks, Taekwondo Coach – Samuel Decaille, Swimming Coach- David Peterkin, Beach Volleyball Coach – Terry Verdant and Sailing Coach – Rob Hemming. (There is still no word yet as to which coach that will be accompanying the athletic team.)
In presenting the locally-based members of the team — which also included Levern Spencer — to the media and her expectations on Tuesday morning, Chef de Mission Joyce Huxley said, "The opening ceremony will commence on the July 19th and that means Stephanie Devaux-Lovell will be competing on the same day.
"The different sports will be competing at different times. We will not have all the athletes all at once,some are scheduled to arrive three days prior to their specific events and then leave shortly there afterward."
What are her expectations?
Huxley replied: "That all of our athletes will give of their very best… I am very excited to be there with the team.
"The biggest expectations, as always, are falling on the very shoulders of our baby Levern Spencer.
"I want to see all the athletes give their absolute best and I would hope to see a lot reaching the finals and a few podium finishes."
Huxley is keeping her fingers crossed and hoping for the very best as the coaches will be there to guide the athletes and she will be there to help and providing the assistance and the logistics on the ground.
In terms of the amount of money the Colombia trip will cost taxpayers, Huxley trod fairly carefully and replied, "We are not in a position as yet to give a final figure, but briefly — a lot."
She could not quantify, but agreed that, "It's going to be a significant amount."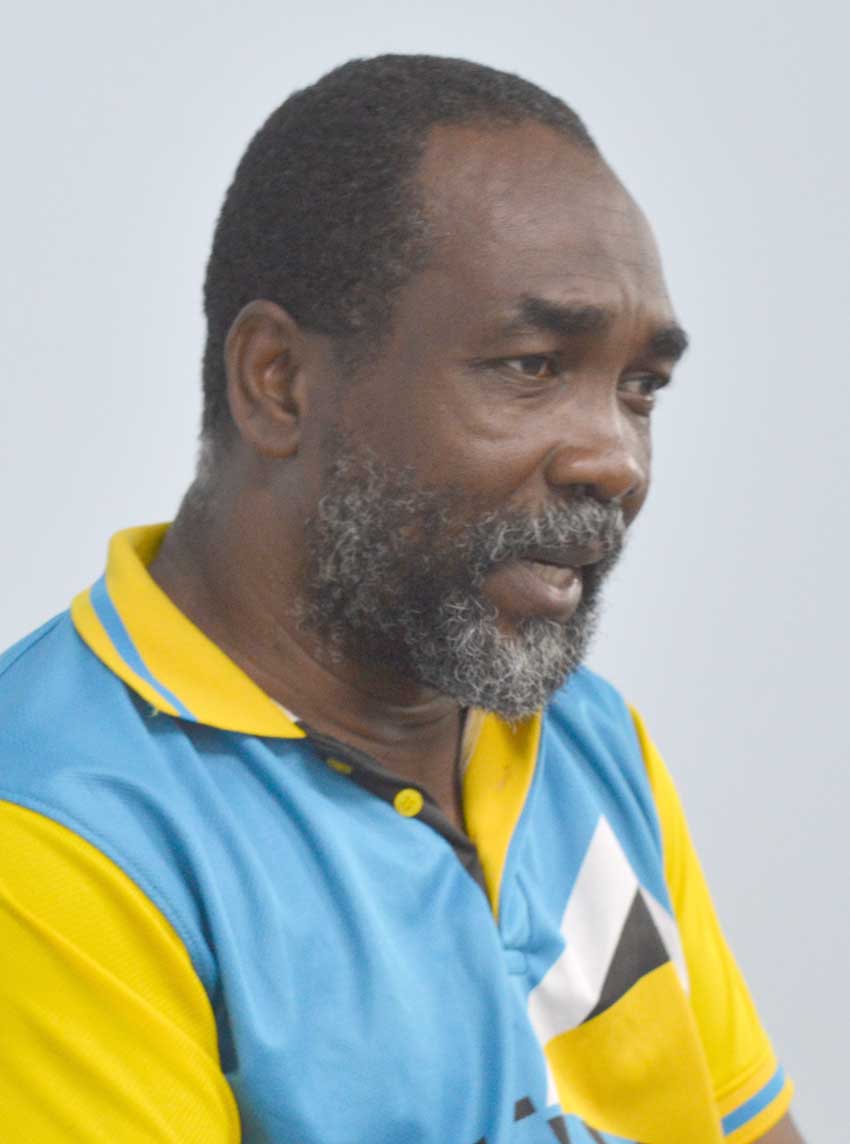 The Voice asked SLOC General Secretary Alfred Emmanuel why Nisso Etienne was selected for the Taekwondo representative qualifying for the games when there hadn't been any national championships in Saint Lucia.
Emmanuel replied: "The Pan American Taekwondo Federation, like any other confederation, organized a qualifier in Mexico City for the sport. Taekwondo, through the SLOC's facilitation, picked-up the tabs and they left here with a three-man contingent comprising two athletes and one coach. They returned and we were informed that one of the athletes had qualified.
"It's a process that, as SLOC GS, I have some difficulty with, but I cannot change it. I hope it will change going forward."
The athlete that qualified went to Mexico, but according to our information, did not compete because only eight individuals were present, so the organizers gave each a berth into the CAC Games," he noted.
VOICE: Quite a bit of finance was spent on Karate. Any idea why they failed to qualify for the games?
Emmanuel: "Karate has just been accepted into the International Olympic Committee (IOC) foil and as such we are trying with them. They cannot in the future accuse us of not assisting them. We have sent them to a number of regional events they would not have attended in the past and we can only hope that having gone and seen what is out there, they will now come back, go to the drawing board and plan for the future".
VOICE: Levern Spencer, Lyndell Marcellin Albert Reynolds, Nathan Ferrari are all survivors of the Gold Coast Games… Your take as they head to the CAC Games?
Emmanuel: "Survivors of the Gold Coast Games… I only hope that they will come better than Gold Coast. You will realise only three track and field people have remained standing and I am extremely happy about that. We had established standards more than a year ago for the Gold Coast Games, but at the time not many of them met the standards, but the Saint Lucia Athletic Association presented them and made a case."
"We maintain the very same standards they had more than a year ago for this CAC Games and we are very insistent that only those who met it must be presented to the SLOC. We didn't want them coming and make a case for any one at the end of the day and only three remain standing and we are extremely happy about that."
"Going forward, that is the standard the SLOC would have to set for each and every one of its members. No one can get a free ride over the other. We must set standards and provide the assistance so the members can put their best feet forward in attainting those standards."