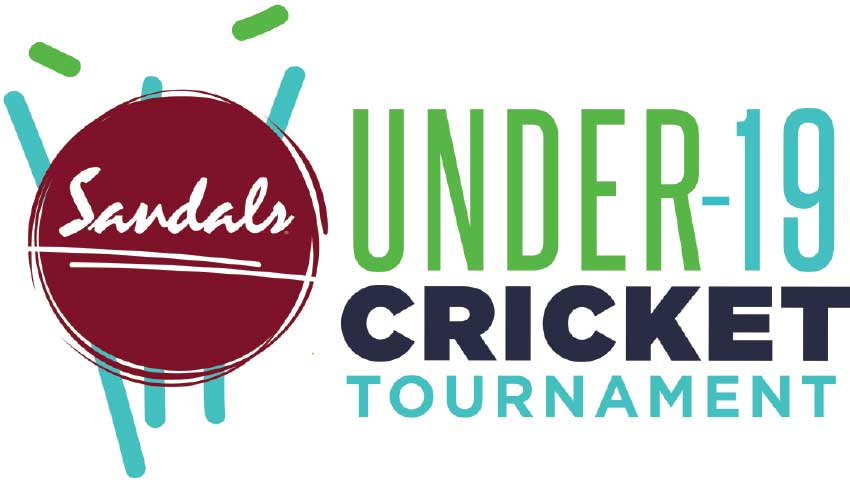 CRICKET action continued in the 2018 Saint Lucia National Cricket Association Inter District Under -19 tournament in collaboration with Sandals Saint Lucia. In matches played over the Easter weekend there were wins for Soufriere, Gros Islet, Babonneau and Choiseul.
Vieux Fort North suffered their second consecutive defeat, but this time with a fight as they chased down a mammoth 274 for victory against Soufriere at the Phillip Marcellin Grounds on Monday 2nd April, and despite Aqua Melee which took place just a stone throw away, the action on the pitch was pretty intense and exciting.
Batting first in a match reduced to 31 overs, Soufriere made 273 for 8, the second highest score in this year's tournament.
For Soufriere, the main contributors with the bat were Xytus Emmanuel 48, Nick Jn Baptiste 44, Kervell Prospere 44, Zack Anthony 29, Trevor Edward 29, while extras top scored with 49.
Bowling for Vieux Fort North, 12 year old left arm seamer David Naitram picked up 2 for 14, Dillon Fanis 2 for 28, Jermaine Harding 1 for 38 and Nick Andrew 2 for 73.
Needing 274 for victory, VFN put up a good fight, but in the process lost wickets at crucial intervals. Their main contributors with the bat were – Dyondre Taylor 67, Curtney Jhanny 44 (a late in the order flurry), Jermain Harding 34, Nick Auguste 19, Ray Joseph 18, Tyran Theodore 16. Extras 16.
Fall of wicket: 1 for 0 – Bradley Fannis, 2 for 17 – David Naitram, 3 for 76 – Nick Andrew, 4 for 85 – Dillon Fannis, 5 for 135 – Dyondre Taylor, 6 for 145 – Jermain Harding, 7 for 171 – Tyran Theodore, 8 for 222 – Ray Joseph, 9 for 240 – Chanso Lori, 10 for 243 – Curtney Jhanny, while Josh Alphonse remained not out 0.
Bowling for Soufriere, Melody Jules 1 for 0, Trevor Edward 2 for 20, Kervell Prospere 1 for 30, Kallys Felix 1 for 31, Zack Anthony 1 for 45 and Kevin Classie 2 for 79.
Also on Monday April 2nd at the Gros Islet Playing Field, Gros Islet Under -19 Cricket Team notched up their third victory at home in as many matches as they went on to defeat a spirited South Castries team by 5 wickets.
South Castries, batting first after winning the toss, made 84 all out in 24.3 overs with captain Lerry Auguste top-scoring with 43 that included 8 fours and a six and Levon Dupre 16, the main contributors with the bat.
Emmerson Charles scored 0, Nowelle Leo 3, Jelani Cupid 8, Chris Joseph 4, Alvinus Callender 2 and Jonathan Samuel 0, Marlon Paul 1, while Kinsley Paul remained not out 0.
Leading the Gros Islet bowling attack were left arm spinners Rene Montoute, who bagged 3 for 23 in 10 overs, Simeon Gerson with 3 for 26 in 8 overs, taking his tally in the tournament to 13 wickets, off spinner Udel Preville 2 for 5 in 2 overs and left arm fast bowler Rumario Simmons 1 for 24 in 3 overs.
Gros Islet, chasing 85 for victory and despite being in a spot of bother for the first time in this year's tournament, easily got to their target finishing on 85 for 5 in 12.3 overs before the lunchtime break, with the not-out batsmen Boodha on 11 and Zidan Arthur on 4.
Jard Goodman was first to go, caught off the bowling of Jelani Cupid for 2 with the score on 9. He was soon followed by Dane Edward, caught off the bowling of Jelani Cupid for 6, 21 for 2 in 2.5 overs.
Skipper Kimani Melius, who came in at No. 4, was bowled by Lerry Auguste for 18, trying to scoop a full toss down to third man, 54 for 3 in 8.4 overs.
Lee Solomon followed suit for 22 before, he was out caught by wicketkkeeper Nowelle Leo, a straightforward catch off the bowling of Lerry Auguste, to give Auguste his second wicket with the score on 56 for 4
Gros Islet's 50 came in the 7.5 overs.
Dominic Auguste did not last too long as he made 8 caught off the bowling of Lerry Auguste with the score 76 for 5.
Bowling for South Castries, Lerry Auguste took 3 for 38 in 6 overs and Jelani Cupid 2 for 30 in 4 overs, Marlon Paul 0 for 5 and Nowelle Leo who also kept wicket 0 for 12.
Brief scores in other matches played: At Des Barras, Babonneau defeated Anse la Raye by 32 runs.
Babonneau 225 for 7 (Efron Charles 51, Roshard Gaston 44)
Anse la Raye 193 (Kimson Lesley 34, Patterson Adonis 31). Bowling for Babonneau, Quain Henry bagged 3 for 27.
At Piaye, Choiseul defeated Mon Repos by 26 runs.
Choiseul U19 – 208 for 5 in 35.0 overs. (Peter 41, Harris 58)
Mon Repos U19 – 182 all out in 31.1 overs. Serieux 36, Alexander 30,
Bowling for Choiseul, Francois 5 for 39.
Matches in the tournament continue this weekend.