HOST Saint Lucia and neighbouring Saint Vincent started their campaign with comprehensive wins in the inaugural Windward Islands Senior Women's 50 Over Tournament, which officially bowled-off on Saturday 14th April 2018 at two venues.
With 13-year-old Zaida James making her debut for Saint Lucia, the home team made light work of the Dominicans to win by 7 wickets at the Phillip Marcellin Grounds.

Batting first, the Dominicans were bundled out for 70 in 21.2 overs, with Stacy Adrien and Pearl Etienne each scoring 10.
Bowling for Saint Lucia, Marlene Preville picked up 4 for 14 in 5.2 overs, Malika Edward 2 for 9 in 3 overs and Quina Joseph 2 for 13 in 5 overs.
Chasing 71 for victory, Saint Lucia reached their target in 11.5 overs with Malika Edward having a good all-round performance scoring 26 not out and Ashlene Edward (captain) chipped in with 19.
Bowling for Dominica, Ronette Sanford bagged 1 for 7 and Krisani Irish picked up 1 for 6. .
The VOICE spoke to former West Indies player (now Manager for the Saint Lucia team) Eugenia Gregg, who said: "Today was exceptional. We were able to bowl out Dominica for 70. Generally, we were supposed to go out there and score the 70 runs without losing a wicket, but that is the nature of the game."
The team is a mixture of experience and youthfulness, as Gregg went on to highlight the likes of Swaylene Williams, Qiana Joseph, Roylin Cooper, Nerrisa Crafton all Windward Island players.
She said, "This inaugural Tournament saw young Zaida James making her debut. She stood out, although she bowled and didn't get the opportunity to bat, but was excellent in her fielding as she executed a brilliant runout.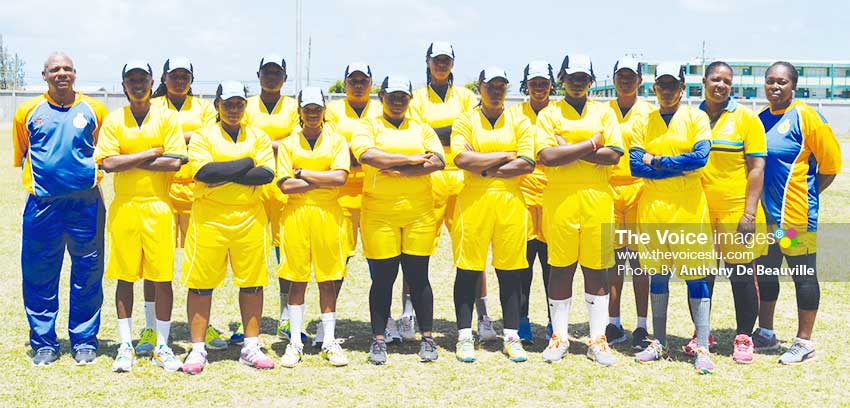 "We want to encourage her as she grows in confidence."
In terms of preparation, Phillipa Thomas-Eudovic and Bryan Calixte worked with the team immediately following the Alicia John T20 and AcyntaAuguste 50 Over tournament.
The ladies had been through intense training, heading into this year's tournament.
At the conclusion, a Windwards Team will be selected to participate in Cricket West Indies Regional Women's 50 Over Tournament in Jamaica from June 7 to 24.
Manager of the Dominica team, Kernel Vidal, also spoke to the VOICE.
She said, "The ladies performance could have been better. For their next game, the technical staff expects them to do better.
"We here coming from post-Hurricane Maria.
"One of our challenges is that all of our playing fields got messed-up. We had quite a lot of intense training. We had to travel from the north of the island to the south every day, to train.
"We are here to play cricket and we are looking to bounce back.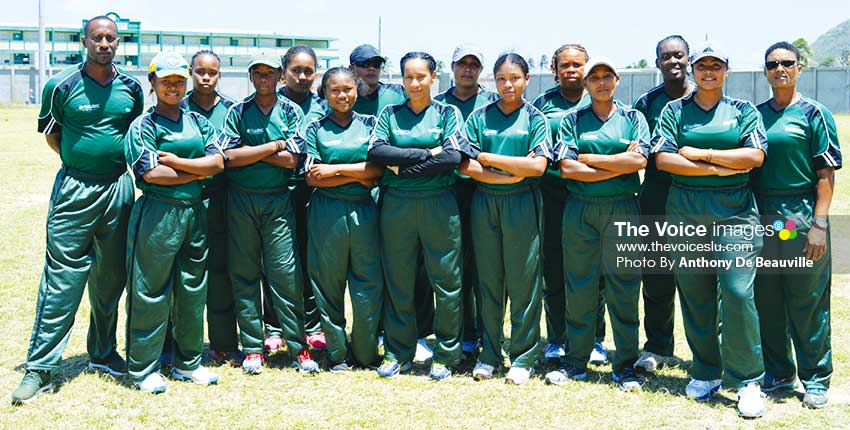 "We have Pearl Etienne, who also played for the West Indies, and quite a few young players coming in, with most of them playing for their respective districts in the DPL.
"We also have seven new faces on the squad. So it's a pretty young team."
Meanwhile, at the La Ressource playing field in Mabouya Valley, Saint Vincent and the Grenadines defeated Grenada by 82 runs.
Scores in brief: Saint Vincent 221 all out, J. Nero 42, K. Homer 40, C. Jack 28. Extras 71.
Bowling for Grenada: A Fortune 4 for 50, T Dickson 2 for 30 and C. Noel 1 for 35.
In reply, Grenada 139 all out – R. Cyrus 23, A. Fortune 23, R. Williams 13, T. Thomas 11 and J. James 10. Extras 38.
Bowling for Saint Vincent and the Grenadines: C. Jack 4 for 20, V. King 2 for 14, S. Daniel 1 for 19 and S. Caine 1 for 21.
Meanwhile, just before press time last evening, Saint Lucia defeated Grenada by 4 wickets at the La Ressource playing field. Grenada 120 all out; Saint Lucia in replay 121 for 6.
In the final round of matches tomorrow, Dominica plays Grenada at the La Ressource playing field and Saint Lucia takes on Saint Vincent and the Grenadines at the Phillip Marcellin Ground.