COMMONWEALTH Games high jump gold medal winner Levern Spencer made a special presentation to the St. Lucia Olympic Committee (SLOC) after capturing Saint Lucia's first ever gold medal in the sport of track and field.
Monday morning's brief ceremony was the handing over to the SLOC the pair of shoes that she jumped with to win the gold medal at a height of 1.95 metres at the Gold Coast in Queensland, Australia.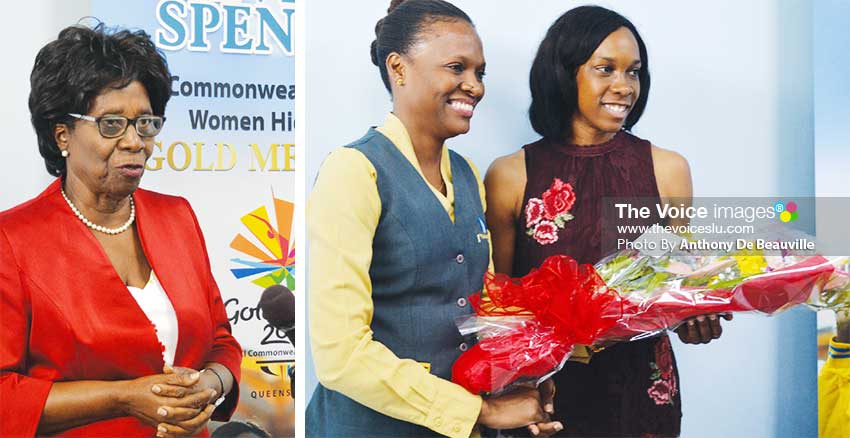 Present at the handing over were former Governor General Dame PearletteLouisy; SLOC President – Fortuna Belrose; International Olympic Committee (IOC) member and former president – Richard Peterkin; SLOC Secretary General – Alfred Emmanuel; Chef de Mission (Gold Coast, Australia) Trevor Hunte; SLOC Representative – Monica Dudley; Managing Director of 1st National Bank – Jonathan Johannes; Executive Manager, Marketing and Public Relations – Robert Feverier; Cherry Anne Plumber – Marketing Officer; Gold medalist – Levern Spencer and Local Manager – Gregory Dickson.
Addressing the gathering in what can described as an "Intimate session" SLOC President Fortuna Belrose said, "Levern has given so many good stories to tell to our country. All what we will want in our young people, Levern embodied that. We have worked with her over the years, we as a citizenry will continue to be ever grateful for her story in terms of charting the course of our young people lives of our country.
According to BelroseLevern should write a book "because at this level what we need is to be able to translate that story to the little ones from the time they are two and three years old. Their parents can read to them nightly as a bed time story in terms of the accomplishment, and how it takes one's time to achieve the things that they want, and what are the systems they need to put in place to ensure they realise success".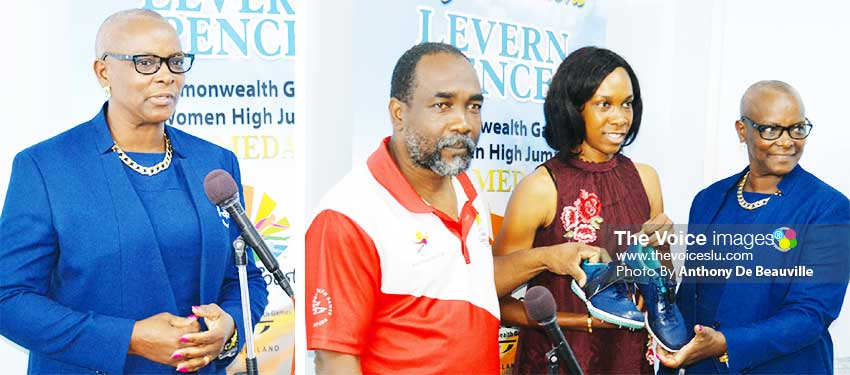 "For us it is a very significant medal and an opportunity we have as an organization, to embrace all the values of sports and to relate it to the community. We see you as that ambassador to be able to assist us in doing that. Sometimes the messages get glossed over by the messengers, we want a messenger like you to be able to relate that to our young people in a story format," Belrose added.
She continued "We are indeed elated. We just developed our museum, and we have a compilation of memorabilia from various games over the years and we have seen what other countries have been able to achieve. The shoes that you will be giving us, are a culmination of a lot of the hard work that has gone into the development of this organization and development and contribution made in sports."
In his opening statement 1st National Bank General Manager Jonathan Johannes said, "You don't always get what you wish for but you will always get what you work for. That is a lesson you have taught us all not just as Saint Lucian individuals but also businesses; for that I want to say, you will always be a champion."
"We need to come together as a business community and put something together to chronicle your achievements. On behalf of 1st National Bank I want to say congratulations on your latest achievement Johannes said."
SLOC General Secretary Alfred Emmanuel, expressed his gratitude to 1st National Bank, saying that the bank saw the need to champion the cause of youngsters 13 years and under and graduated to 14 and under games. Twenty five years of sponsorship has now produced a gold medal.
"I am delighted that having requested the pair of Golden Shoes from Levern Spencer she gracefully agreed to donate it to the SLOC. When you will visit the museum you will see one side of shoes in there identifying 5.61 metres bronze medalist Dominic Johnson at the 2002 Commonwealth games. We will have an addition that will take centre stage of the museum 1.95 metres; it took a longtime in coming, but its here, we are happy it has come," Emmanuel said.
He also said that "now that the grand public celebration is over, the powers that be will in their more sombre moment reflect and come up with a plan that will not only allow us to produce a Commonwealth Games medalist but an Olympic Champion."
Former Governor General, Dame Pearlette said that when she saw the video, like everyone one else, she made some noise. "There you go girl", she exclaimed.
"I was personally present at three of your events, London 2015, Glasgow 2014 and Rio 2016," Dame Pearlette said to Levern, adding "Gold Coast, Queensland, Australia, was a bit far."
Dame Pearlette endorsed the SLOC President suggestion of documenting Levern Spencer achievement over the years. With the title, "Walk in my shoes" or "Foot Prints". She said," For one who has served us well at the international level she should not be allowed to go unnoticed."
She said, "I hope not only the young ones, but older people will emulate your grit, determination and focus."
In addressing the gathering, Spencer said, "When I got the message from the SLOC General Secretary requesting me to donate my shoes for the SLOC Museum, I went like "Really!", I just won a gold medal, and if I keep wearing it, maybe I can win more gold medals. Then again it's not all in the shoes and fortunately I have more than one pair, so it's no problem.
"It's my pleasure to donate it to the SLOC so individuals coming to visit will see what I actually wore to win the gold medal at the Commonwealth Games."
She took time out to thank 1st National Bank for sticking by her side for close to 20 years.