FRANCIS Charlery of Mon Repos Domino Masters Club emerged champion at the final of the Saint Lucia Distillers (Bounty Rum) Three-Hand Domino series held on Saturday evening, when the curtains came down at the Vigie Multipurpose Sports Complex Car Park.
Charlery amassed nine points, two points clear of second-place finisher Sylvius Gabriel and three points ahead of Zaquin Mathurin, who finished third to take home the championship trophy, a hamper and EC$2000.00; while Gabriel and Mathurin received a hamper and EC $1,000 and EC $500 dollars, respectively.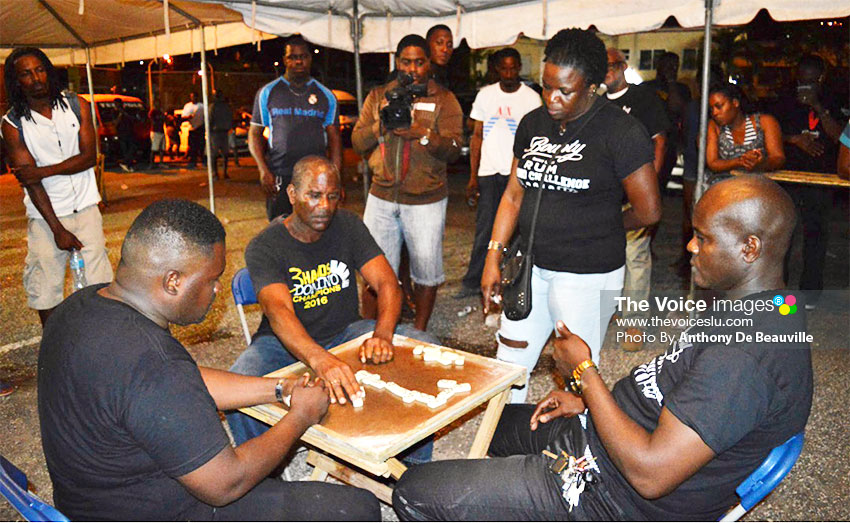 After a series of elimination games, the following players made it to the semifinal round: Francis Charlery, Simon Henry, Mark Edwin – Table 1; Angus Lafeuille, Sylvius Gabriel, Dudley Joseph Table 2; and Kevin Nelson, Zaquin Mathurin and Randall Joseph – Table 3. The eventual winners — Francis Charlery, Zaquin Mathurin and Sylvius Gabriel — then proceeded into the final.
For Charlery it was the first time making it to the final. He said, "For the past three years I got qualified, but was always getting knocked-out in the quarterfinal round of the competition. This year, I qualified in La Farge, Choiseul. I was determined to go past the quarterfinal stage this time around and when I got into the semifinal, there was no stopping me".
Charlery said "Going into the finals, the rivalry was tight, it was fierce, I had to up my game a few notches against Gabriel and Mathurin. They are good players too, so I had to remain focused throughout. The night really belonged to the supporters from Mon Repos that travelled all the way to Castries to take in the showpiece."
He added, "In terms of the hamper, I am not a greedy guy. I have fans here, plus the Mon Repos Domino Masters are all waiting on me back home to celebrate the victory. I don't drink alcohol, so they will enjoy what's in there".
Meanwhile, Brand manager for Bounty Rum, Tony Polius, said there was a great improvement compared to last year. The level of participation and the quality of play was great, with three qualifiers coming from each of the communities they visited, making it to the final.
Polius said, "Overall, domino has been on the down scale at the national level and Saint Lucia Distillers, through its brand Bounty Rum, is keen on keeping the game alive throughout Saint Lucia.
"We also have a number of past national players competing and they bring that additional flavor to the competition".
He concluded, "We will continue to have this event. In fact, we are already planning for next year's competition, because we want to make it bigger than ever for the players and the supporters."