NATIONAL Security Minister Hermangild Francis and Talk Show Host Christopher Hunte could be heading for a square-off in a local court of law.
Minister Francis yesterday told reporters he will file a lawsuit against Hunte for making certain allegations on his talk show on Thursday.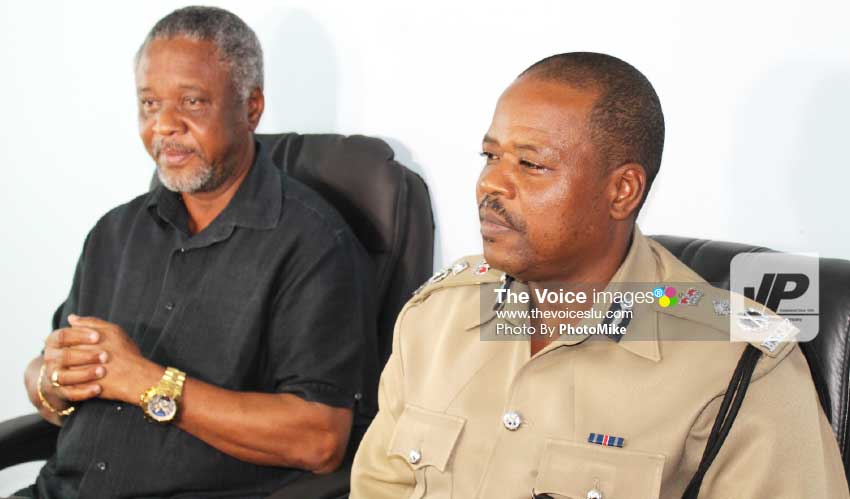 The minister told reporters: "I will be seeing my legal representative and we will be taking the matter to court."
According to the minister, "I do not want any apology. Christopher Hunte has to be made to pay for the foolishness he is doing."
He continued, "Play your politics, but do not include me in your politics.
"If I am not doing my work as a Minister of Home Affairs, National Security and Justice then tear me up, but do not involve me in these personal issues and then involve my wife."
Minister Francis' wife is a Sergeant in the police force.
Hunte is alleged to have asked on his show whether the Cabinet of Ministers sent a memo to the Royal St. Lucia Police Force asking that certain officers be promoted, including a minister's wife.
"I am asking if this is true," Hunte said, regarding an unsubstantiated claim that Cabinet was hand-picking officers for promotion.
The talk show host further called on Travis Chicot, President of Police Welfare Association (PWA), to speak out on the matter and find out whether this was true.
Minister Francis said he tried to seek an audience with Chicot via telephone and social media, but could not. He said he however learnt that Chicot was calling a meeting with his executive on the matter raised by Hunte.
The minister asked: "How irresponsible can a President of a Police Welfare Association be?"
He then went on to state that Chicot should first have verified the veracity of Hunte's statements before meeting with his executive.
Further, he added, Chicot should also first have raised the matter with him, as the subject minister — and then, if needs be, take action.
"You cannot be acting on innuendo," Minister Francis said, referring to the PWA President.
The Minister, Police Commissioner SeverinMoncherry and the PWA President were expected to meet yesterday morning to discuss the matter.
The meeting was requested by the Minister, who declared that the Cabinet of Ministers never made suggestions to the police force to promote any of its members.
"Never has Cabinet ever made that suggestion. And if that happens, I will not sit in Cabinet. That is how serious I am. The only thing I have is my name and reputation and I will defend that to death," said the minister.
"Cabinet has never sent any memo to the Commissioner of Police for promotions. I have never asked the commissioner to promote anyone, including my wife," Francis added.
The Commissioner corroborated the minister's statement, saying he had not received any documentation from the Cabinet of Ministers relating to promotion of police officers.
According to Moncherry, "I have had no conversation with the Minister, or any other Minister, as it relates to promotions.
"I am quite aware of the powers invested in me under Section 94 of the Constitution and if anyone would send me any list, I do not think it would be worth any more than the paper it is written on.
"I will not at any time take any instruction as it relates to promotions. I will follow the guidelines that have been set as it relates to promotions from the rank of Corporal to Inspector."
The Commissioner concluded, "In relation to promotions at the higher level — from Assistant Superintendent of Police to Commissioner — that is vested in the Public Service Commission.
"I have received no document from Cabinet. I have had no conversation with the Minister, or any other person, as it relates to promotions within the police force.
"I do not know of any promotions within the Royal St. Lucia Police Force lately."