THE new school term got off to a wonderful start for students of Des Barras Combined School. Last Friday, ahead of the reopening of school, members of the Lightning Aquatics Swim Club (LA) made a donation of food items to support the school's breakfast programme.
"Mission Possible: Healthy Breakfast, Healthy Child" is the first in a series of activities under the club's 2018 LA Brings Smiles initiative.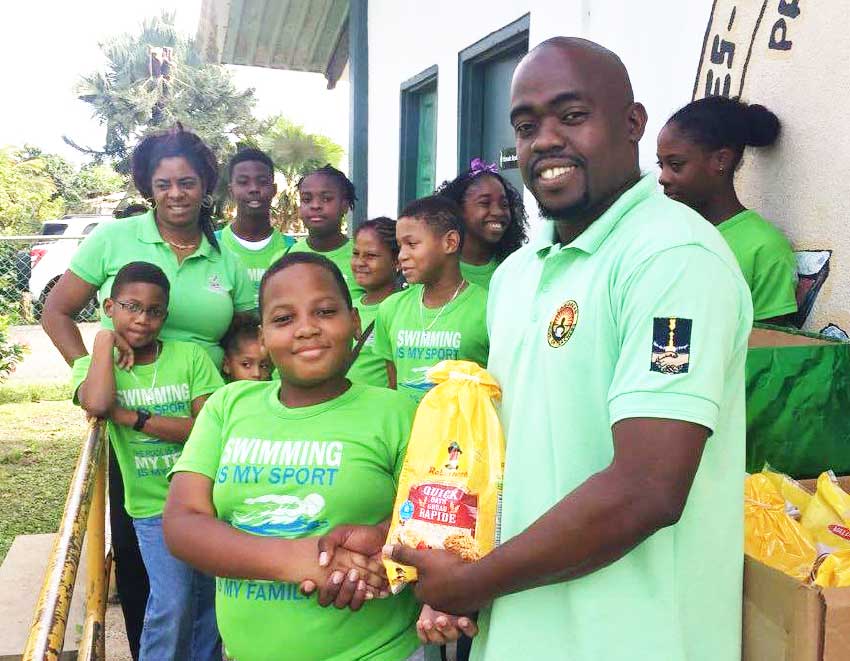 According to LA's President, Tessa Charles-Louis, "In 2017, the Club was informed about the plight of the school feeding programme in infant and primary schools in Saint Lucia. We were saddened to learn that thousands of children go without breakfast daily, and sometimes lunch, and that the schools do not have sufficient resources to assist.
"With the Ministry of Education's blessings, we decided to partner with the Des Barras Combined School to provide breakfast for 25 students for the second school term commencing January 2018 and ending March 2018."
She said Des Barras Combined was selected because of its remote location and the possibility that they might not receive much support due to this factor.
The school's principal, Ezra Joseph, who received the items on the school's behalf, was very delighted and expressed thanks to Lightning Aquatics for selecting his school. Joseph also said that one of the worst nightmares for a teacher is to teach students who come to school on empty stomachs. As such, he said this donation will certainly go a long way to remedying this problem.
Whilst the Club is focussed on enhancing the abilities of its swimmers and providing opportunities to compete locally and regionally, it also committed to providing numerous opportunities which will ingrain in its members the importance of lending a helping hand to those most in need.
For more information about joining or supporting LA, please visit us on Facebook: 'Lightning Aquatics Swim Club'.