THE curtains came down on the 2017 "Spider Cup" on Sunday evening and the event, which was organized by the Gros Islet Football League, was well attended by a supportive crowd.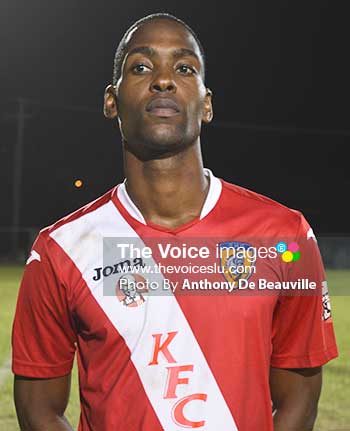 In the final, it was Sports Locker/Dominoes Northern United versus KFC-GMC United, the latter hoping to win their first District League title, while Sports Locker Northern United had something to prove to their A and B teams: that they deserve to win this year's Cup.
On a night when it may have seemed that KFC-GMC United would have dominated this encounter — being undefeated before in all competitions in 2017 — they really had to dig deep to pull a victory and maintain their winning streak.
In the first half, Sports Locker Northern United proved to be a real test to a team that placed third in the Saint Lucia Football Association's President Club Competition which ended recently. The likes of Gabriel and Daniel Biscette of SLNU continuously tested the defensive structure of KFC-GMC United, while at the other end of the pitch KFC-GMC United were being kept out by SLNU custodian, Stavone Gabriel.
Selwyn Boyce of KFC-GMC United was denied glory on three consecutive occasions due to some brilliant goalkeeping by Gabriel. SLNU continuously mounted pressure on KFC-GMC, preventing them from playing their normal game. This pressure finally paid off for SLNU when they got an own goal through Jerlan Gustave in the 39th minute of play from a wonderful free kick from Gabriel Biscette to end the halftime score 1-0.
On the resumption, the crowd had grown sufficiently, one of the biggest seen in a very long time in Gros Islet. The second half also proved to be too much for SLNU as tired legs kicked in. Strangely, their style of play changed, though they were 1-0 up. KFC-GMC United showed their supremacy in this half.
KFC-GMC United started playing some wonderful possession football, finally getting past SLNU's defense; Rohan Lambert worked his way through the defense to strike a right foot shot to the far right corner of the goal, giving Stavone Gabriel no chance of saving in the 48th minute.
From there on, it was game on with the score now at 1-1, and the lack of experience of the SLNU players starting to show on the pitch. There was no direction in their play and they only relied on long balls searching for their lone striker Turjard Stava. This plan backfired as it allowed KFC-GMC United to win these long balls.
With pressure mounting on Sports Locker Northern United, a second goal was inevitable. Captain Gabriel Biscette broke down KFC-GMC United's defense, but to be denied a goal through an excellent save by goal keeper Caster James.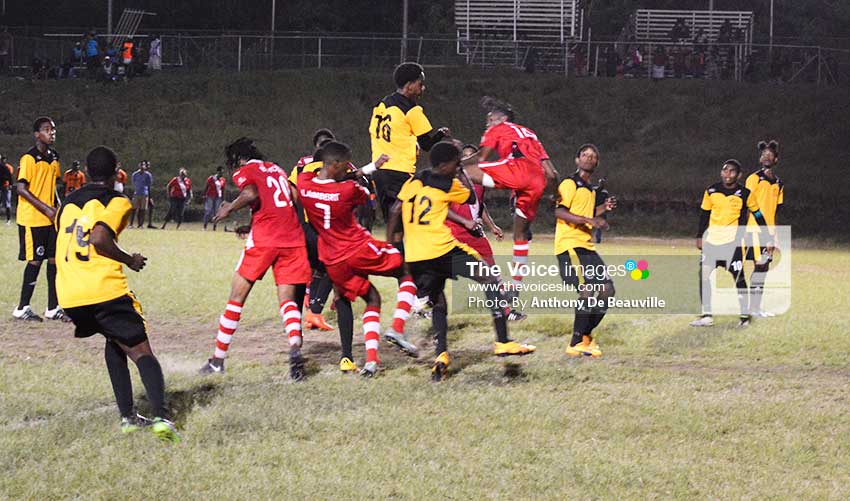 Three minutes after this save, KFC-GMC United talisman Rohan Lambert scored an unbelievable goal in the 67th of play to win the Spider Cup 2017 and despite Sports Locker Northern United's attempts to goal, the KFC-GMC United defense denied them of any scoring opportunities up until the final whistle to win 2-1 and to start a celebration.
Goal scorer for KFC-GMC United, Rohan Lambert, who also happened to score the only goal in the semifinals, spoke to The VOICE following the encounter.
"I was fortunate to score two wonderful goals — both with my left foot against a youthful and enthusiastic team. We took them for granted in the first half. Suddenly, we were 1-0 down via an own goal. But going into the second half, we regrouped and in so doing turned on the heat. Northern United have the history of winning most in the Gros Islet League," Lambert said.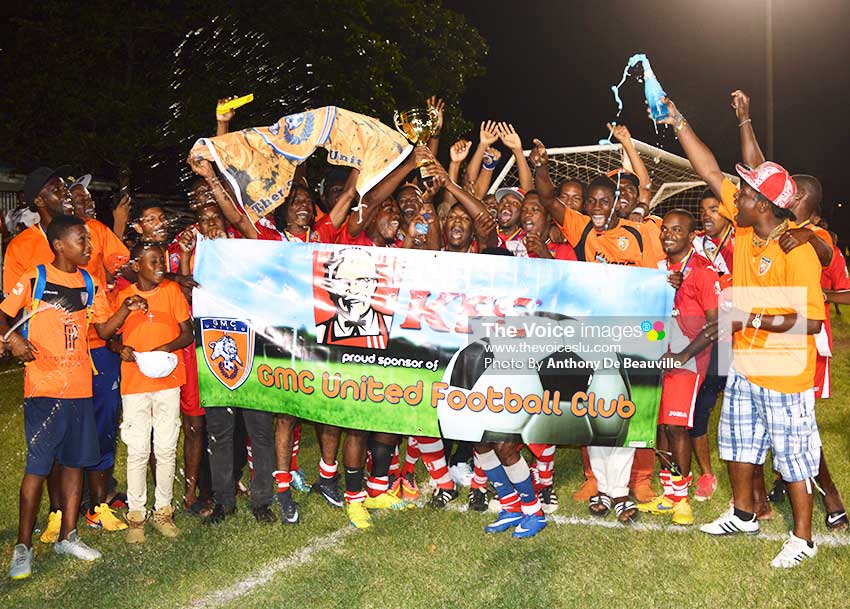 He added: "In this year's tournament, Northern Untried had three teams, and it came down to their C team. Northern United fans came out in their numbers. But we had our plans and our fans from Grande Riviere, Marisule and Corinth also came out in the numbers to support us and we didn't disappoint them."
Meanwhile, playing for the third place silverware were Twist Dominators FC and Massy Northern United. With ten men on the pitch, Twist Dominators FC looked to take advantage of Massy Northern United's weakened squad, getting an early goal in the 15th minute of play by Lyndan St Juste.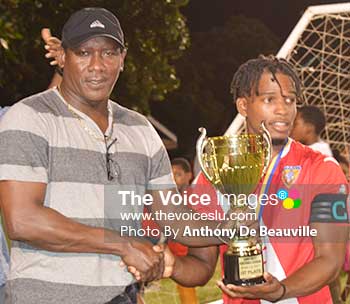 Massy Northern United regrouped as they rose from this deficit and started playing like they had the 11 men on the pitch and in so doing, Nicholas Lawrence found the back of the nets in the 36th minute of play to level the scoreline at 1-1 going into the halftime break.
On the resumption, Massy Northern United continued to press in search of that second goal. Seven minutes into the half, they were awarded a free kick some 30 yards away from their opponent's goal. Nicholas Lawrence was part of this goal as he played the ball to his left to the boot of Melvin Doxilly who threaded the ball right into what most football fans call the 'V' to put his team 2-1 up and that's how the scoreline remained up until the final whistle.