PRESS RELEASE – DECORATION De Bamboo of the Babonneau Secondary School will be among the teams vying for the prestigious JA Americas Company of the Year (COY) title in Sao Paolo, Brazil. At the 9th edition of the COY, 20 student companies from Canada, Latin America and the Caribbean converged at the Maksoud Plaza Hotel, Sao Paulo, Brazil from November 27 to 30.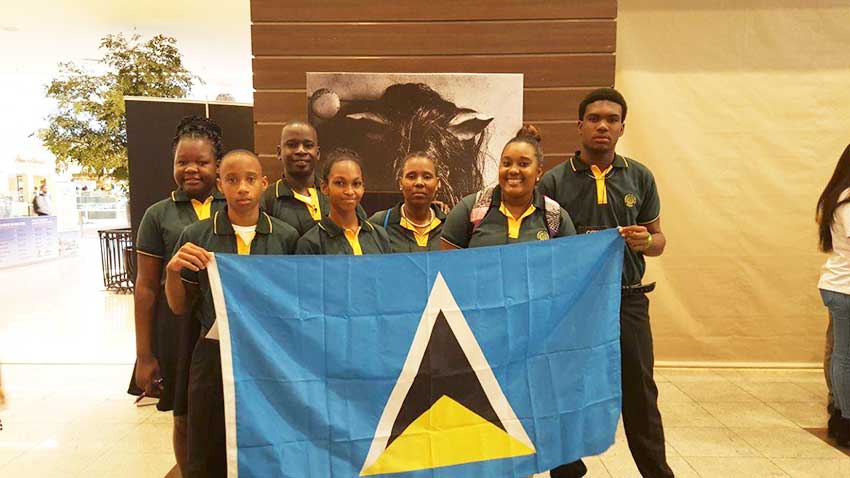 The St. Lucian team is represented by members of the executive, namely SiahPreville, President; Aaylah Joseph, VP of Marketing; Kayla Alexander, VP of Finance; and Azhar Wilfred; and chaperoned by teacher advisor Lizanne King, with JA teacher advisors/mentors Arthur Michael and FrancilliaKenswill accompanying the team to Brazil.
Decoration de Bamboo captured most of the awards presented at the local JA Awards ceremony held in September.
FedEx is the main sponsor of the competition with additional support coming from Delta Air Lines and with the St. Lucia National Lotteries Authority covering the costs of airfare for the entire St. Lucian team to Brazil.
During the three days of competition, teams participated in an exhibition where each delegation presented their company and its products to the public. There were seminars and workshops for students' entrepreneurs, evaluations from an international jury and a gala dinner where the winners were announced.
Among the awards presented was the FedEx Access Award, which recognized the company presenting the best business plan with the potential to create jobs, grow small businesses, expand global development and improve the environment and the prestigious COY 2017.
On behalf of the Board of Directors, we wish to express deepest gratitude to the Board of Directors and staff of the National Lotteries Authority for their generous contribution and support to the team; the Ministry of Youth, in particular, the Director, Mary Wilfred; the Ministry of External Affairs, Ministry of Education, Brazilian Embassy, Jazbo Travel Agency, the principal and staff of Babonneau Secondary School, parents and all contributors and well-wishers who made this tour possible. We say thank you for believing in our youth and supporting their efforts.