Goddard/PCD emerged champions of the Corporate Warfare Futsal tournament for 2017, as they defeated Windjammer 4-2 in the finals played last week Friday evening at the Beausejour Indoor Practice Facility to lift the trophy.
WASCO breezed past Sandals 4-1 to take home the third place silverware.
In front of a crowd close to 500 representing the various participating teams and sports-loving fans, Javier Charlouis started things off for Goddard/PCD in record time, scoring in the first 12th second of the encounter. He went on to score two more goals in the 19th and 22nd minutes to secure his first hat trick. Trisan James also got on the score sheet for Goddard/PCD in the 32nd minute to seal the victory and start the celebrations.
For Windjammer, Tyson Fedee opened the scoring in the 10th minute, his 10th goal in the tournament, while Ed Joseph scored one in the 35th minute — a little too late.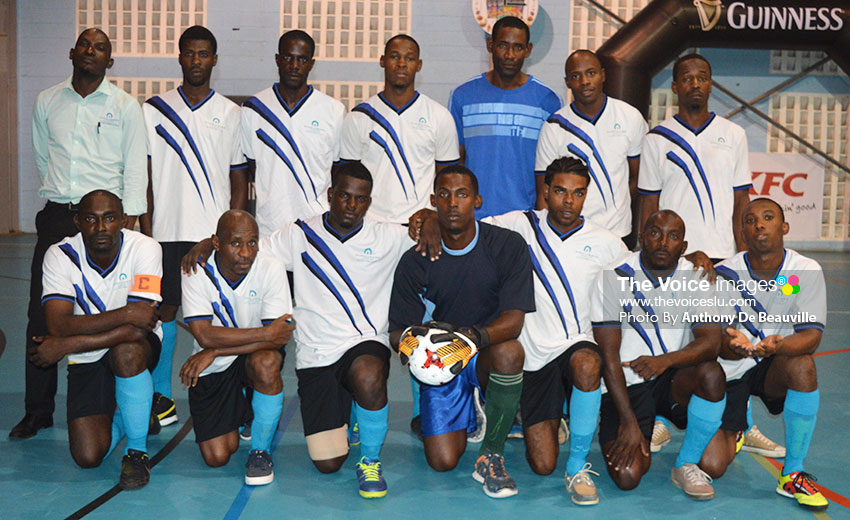 In the third place matchup, WASCO, with their usual crowd support behind them, outplayed a disappointing six-member Sandals team 4-1 with goals from Ahmed Chandler in the 8th and 22nd minutes, Dylan Sonson in the 33rd minute and Richard Annius in the 39th minute to seal the victory.
It could have been worst for Sandals, but their goalkeeper made some spectacular saves, thus saving them from total humiliation.
For Sandals, Dwain Wilson scored in the 38th minute to make it 3-1 still in favour of Goddard/PCD.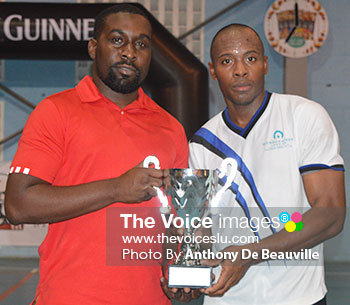 Earlier on the evening, in the All Stars game, Guinness All Stars defeated KFC All Stars 5-1 with prolific striker Shaquille Degazon scoring one additional hat trick with goals in the 12th, 18th and 30th minutes. Goalkeeper Randy Poleon, who was relieved from his duties between the uprights, scored in the 20th and 27th minutes of play.
For KFC All Stars, Dyke Francois scored a goal in the 24th minute.
Prizes were awarded following the entertainment on centre court. For their third place victory, WASCO received $1000, a trophy and bronze medals; second place finishers, Windjammer received $1500, a trophy and silver medals; and Goddard/PCD received $3000, the championship trophy, and gold medals.
Here's a list of other awards presented: Most goals, Tyson Fedee (Windjammer) and Richard Annius (WASCO) tied and received $300 and a trophy; Finals MVP, Javier Charlouis (Goddard /PCD) received $400 and a trophy; Golden Glove, Andre Marquis (Goddard/PCD) received $300 and a trophy.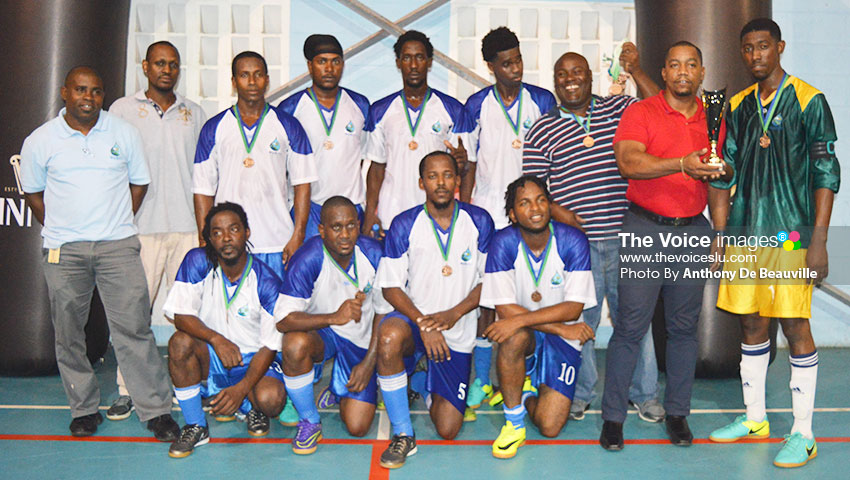 A record 271 goals were scored, Sandals leading with 34, Goddard/PCD 30, Windjammer 25, SLASPA and WASCO tied on 18 each.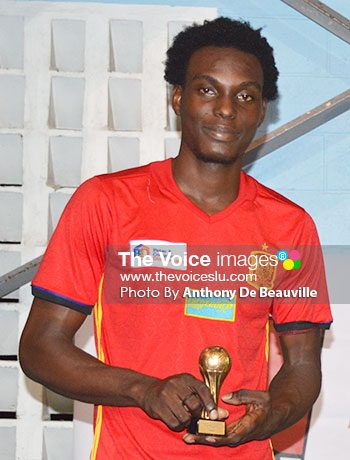 Top goal scorers were Tyson Fedee (Windjammer) and Richard Annius (WASCO) with 10 each, while Shaquille Degazon (Renwick and Company), Corey Serieux (Ministry of Agriculture), Nehemiah Alfred (Teachers Union) were in a three-way tie with 8 and MiandadSoudine (Windjammer) finishing with 7.
A total of 20 hat tricks were scored, Renwick's Shaquille Degazon with 3, and two each for Brandon Wallace (Sandals), Nehemiah Alfred (Teachers Union), Tyson Fedee (Windjammer) and Corey Serieux (Ministry of Agriculture).
Lionel John, co-founder TimeOut Entertainment, said, "The tournament was a great success. 360 players along with the coaches and managers representing twenty four teams turned up and showed off their skills at the BIPF."
John also believes that the tournament shows off the skills and techniques that you won't usually see and futsal is a great way to develop these aspects.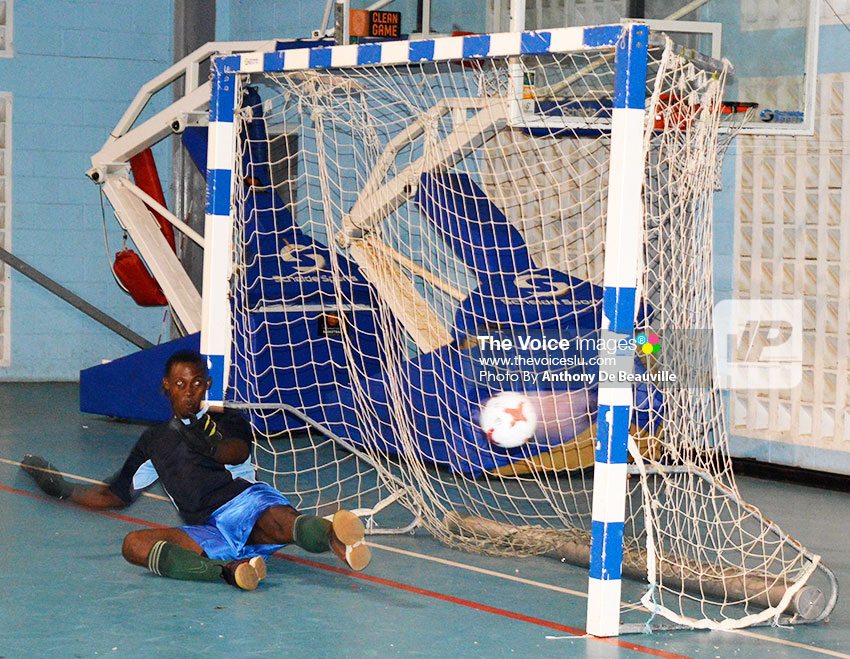 In terms of the final, he said: "It was an intense final as both teams looked like they could win. But in the end, Goddard/PCD won 4-2. Both teams' players showed great ability and put in great performances."