THE inaugural Mayor's Cup has reached the homestretch, under the theme "One City, One Vision, One Voice". The semifinal of the tournament will take place on Sunday at the Marchand Grounds.
From 2:00 p.m., Flow Lancers FC will play VSADC, while Big Players FC will come up against NYAH at 4:00 p.m.
The grand final is scheduled for December 13 (National Day) at the same venue, and will include lots of entertainment (fun sports).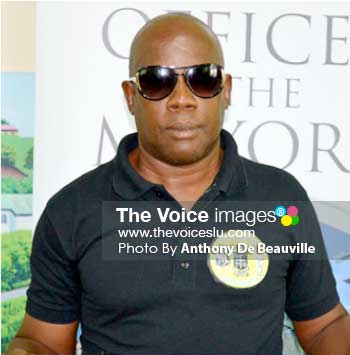 Coordinator for this year's tournament, Gilroy Hall of Ezi Promotions, at a press conference held on Thursday morning, said, "A total of 22 matches have been played between November 15 and December 3. The matches were played at the Sab, La Clery, The Morne and Marchand Grounds. What makes it even more interesting is that all the matches started on time, while there were four default matches."
Hall noted the rehabilitation work done at the La Clery, the Morne and The Sab, including the clearing of bush, light restoration and new nets at La Clery, while the Sab received attention earlier this week.
Community projects included rehabilitation and beautification of the Sab (Castries Central); court marking at Bexon (Castries Southeast); piling and the removal of bush and the erection of a second shelter at La Clery (Castries North).
A whooping 99 goals have been scored with powerhouse VSADC leading the table with 27, closely followed by Big Players FC with 21. Four hat tricks have been registered, Shaquille Degazon and Jonathan Symphorien (VSADC), Valdez Maximin (Big Players FC) and Andrus Remy (B1 FC).
To date, Shaquille Degazon (VSADC) leads the charge with a beaver trick. He also has the most goals in the tournament (8), and close on his heels are Lincoln Phillip (7) and Valdez Maximin (6), both representing Big Players FC.
Hall said the inaugural Mayor's Cup has increased visibility for CCC.
"We have established a partnership with the Saint Lucia Football Association, the various football leagues within Castries, improvement to sports facilities (playing surfaces), while there has been economic activity for the various communities (vendors). We have also seen an improvement in the structure of football within Castries. We did give attention to the Mindoo Phillip Park we did not use."
Hall added: "Persons are requesting that next year there should be 16 teams in the tournament, while the organizers should make it compulsory entry for the top four teams. They want this tournament to be an annual one. People are also talking about a first and second division next year.
"The pool of referees certainly has to be increased and we have recognized that. For them, as part of the Castries Redevelopment Initiative, all playing fields should be lit up. These are recommendations received from the various leagues, administrators, players, fans and individuals who have followed the tournament thus far."