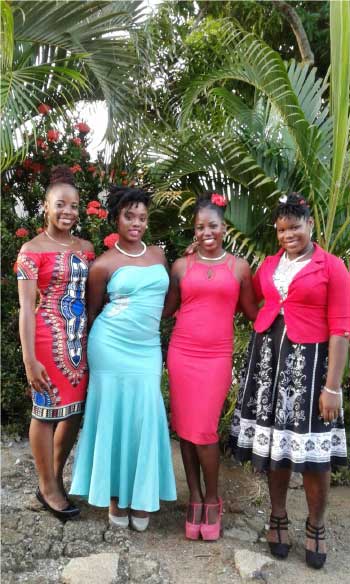 PRESS RELEASE – BRIDGE of Hope Community Foundation is a non-profitable organization which is based in the Mabouya Valley and was founded by Simone St. Fort, former principal of Aux Lyon Combined School and Pastor of DerniereRiviere Joyful Assembly Church. The group's main vision is to provide opportunities to assist the vulnerable, marginalized, unfortunate and hopeless individuals, specifically women, in our society.
The group has been engaged in a number of projects such as:
• Job training skills in housekeeping in collaboration with NSDC
• Offering free CXC classes to forms 4 and 5 students and for those school-leavers who were unsuccessful in subjects
• Hosting seminars, workshops and conferences
Presently, we have a group of 40 women enrolled in a 14-week programme called "The King's Daughter". Some of the topics include "Celebrating Your Uniqueness", "Positive and Attainable Goal Setting", "The Workplace", "Good Nutrition", "Financial Stewardship", and "Relationships and You".
The programme will culminate with a graduation exercise on December 16, 2017 and a "Queen Esther Beauty Pageant" on January 2, 2018 at Bethel's Blessing in Dennery at 4:00 p.m.
The pageant will be held to help the women demonstrate what they have been taught and to also raise some funds for other projects in Bridge of Hope Community Foundations. The tickets cost $10 each.
We hereby solicit the assistance from the general public to support Bridge of Hope in this pageant by purchasing a ticket or by making a monetary contribution to the Foundation. Monetary contributions can be made to account number 930790061 at Bank of St. Lucia.