PRESS RELEASE – SEVENTEEN people were awarded certificates on Wednesday for their participation in the Social Media Management Programme delivered by the St. Lucia Youth Business Trust and St. Lucia Chamber of Commerce, Industry and Agriculture as part of its "Mind Your Business Development Series".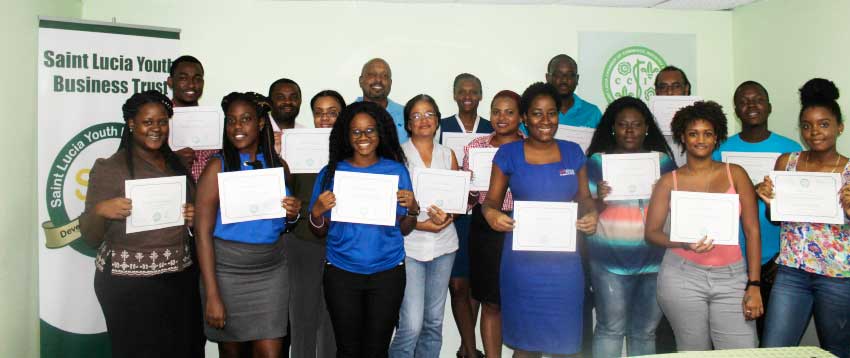 Facilitated by Leslie Collymore, Founder and Managing Director of Advanced Intellectual Methods (A.I.M), the programme equipped Social Media Marketers and entrepreneurs with the skills necessary to increase traffic to their social media channels and reap greater results from their engagements, campaigns and social media presence.
Collymore said that, as a facilitator, he was able to learn more about the challenges faced by the business community within social media management. He encouraged participants to join the hands-on programmes delivered by the Trust and utilize the creative environment provided to grow their ventures.
Ghinelle Primus, future digital marketer, said the programme allowed her to remain ahead with the best social media practices and network with a group of like-minded professionals. She added that it was important for interested persons to get into the field and remain relevant as social media grows.
For more updates on upcoming programmes and how you could be a part of them, follow the St. Lucia Youth Business Trust @SLYBT & the Chamber @SLCOCIA on Facebook or contact their offices at 4523165.