PRESS RELEASE – M&C Home Depot, one of the largest retailers of building materials, hardware and household items in St. Lucia, donated a brand new Daichi microwave oven to the Ebenezer Home in Soufriere just in time for the holidays.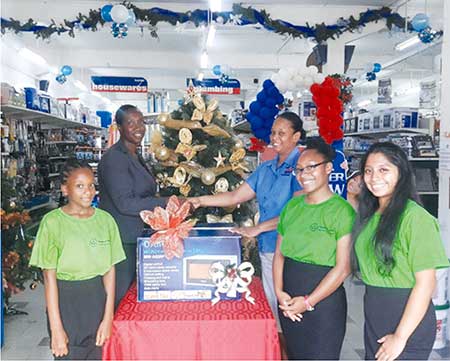 The Ebenezer Home is a non-profit organization that was established to minister to troubled young people and provide them with a safe Christian home. Over the past six years, Ebenezer Home has been assisting teens in taking responsibility for their choices and developing a positive self-concept, enabling them to learn, hope, dream, and work towards a happy, meaningful and successful life.
Due to the successful administration of the programmes in the Home, several students have graduated, four are in college and one is furthering studies in the vocational field. They attribute their success from donations and support from the community, church members, corporate organizations and other stakeholders.
Jennifer Alexis, Programme Coordinator, thanked M&C Home Depot for their contribution to the Ebenezer Home and assured that the donation will be used to enhance the lives of the girls.
M&C Home Depot wishes Ebenezer home continued success and many years of service within the community of Soufriere.