PRESS RELEASE – AS part of M&C Group of Companies' Corporate Social Responsibility Programme, Faces of Cancer St. Lucia was the recipient of a cheque for $3,707 towards their mammogram project during Breast Cancer Awareness Month in October.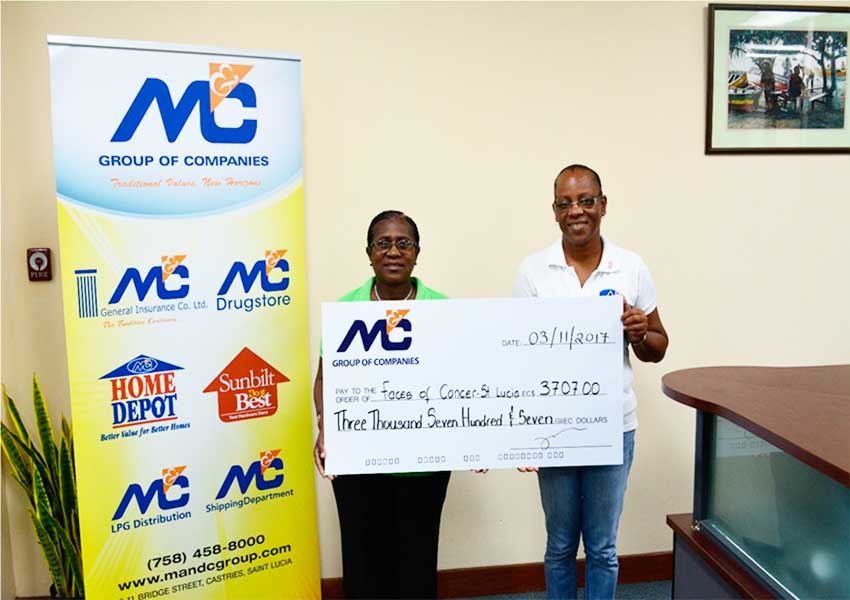 Faces of Cancer is a support group for cancer patients, survivors and their families. It was founded in 2009 and first registered as a non- governmental organization in 2010.
M& C Group of Companies has seen the importance and benefits of organizations like Faces of Cancer St. Lucia and has supported the organization in a number of ventures.
During the month of October, Faces of Cancer St. Lucia organized health fairs in Mabouya Valley, Mon Repos, Soufriere and Babonneau. We are hoping that our donation will help them assist the under-privileged and unemployed in accessing mammograms and ultrasound at no cost as part of their awareness campaign.
Dorothy Phillip, President of Faces of Cancer St. Lucia, expressed gratitude for the support from M&C Group of Companies, saying, that "because of loyal companies like M&C Group, we are able to continue helping the less fortunate cancer patients and continue to raise cancer awareness in order to capture cancer at a much earlier stage where it can be successfully treated, thus reducing the cancer burden on our nation."
M&C Group of Companies recognizes the important work that is being done by Faces of Cancer St. Lucia and is proud to put its support behind charities such as this. We wish Faces of Cancer continued success and many more years of service in bringing awareness to the people of St. Lucia.