SHIVNARINE Chanderpaul and fellow left-handed batsman Jonathan Carter made contrasting hundreds, as their sides played to draws, while Devon Smith scored 119 not out for Volcanoes in the Digicel 4-Day Championship on Sunday.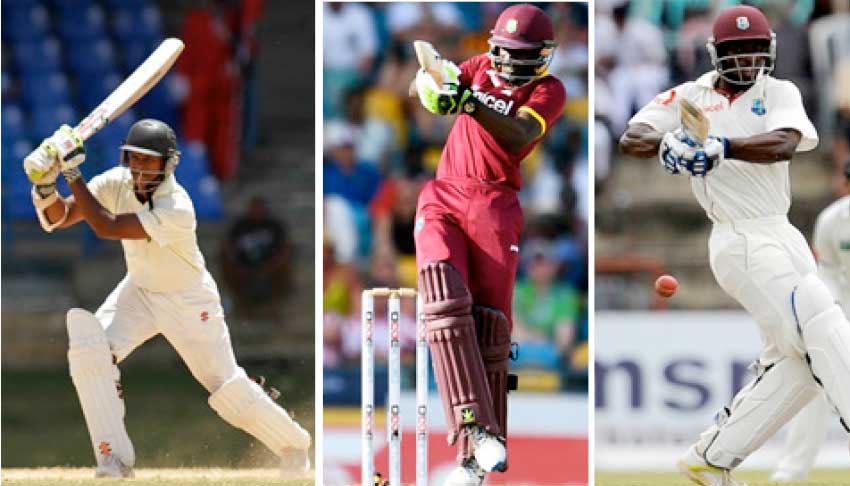 Chanderpaul, the veteran and former Windies captain, fashioned a 77th first-class hundred and passed another milestone in his illustrious career as he rescued Guyana Jaguars to force a draw against Leeward Islands Hurricanes on the final day of the key third-round match at Warner Park.
Carter, a recent member of the Windies One-Day side, carved out a fourth first-class hundred to lead the Barbados Pride batting, as they had to settle for a draw with Jamaica Scorpions in their badly rain-affected match at Sabina Park.
Hurricanes (412 for 9 declared) drew with Jaguars (206) & 305 for 7 (follow-on) in Basseterre, St. Kitts.
The 43-year-old Chanderpaul gave a timely batting master class with a resolute 109 that propped up the Jaguars' second innings batting and frustrated the Hurricanes.
Wicketkeeper/batsman Anthony Bramble was unbeaten on 57, Jaguars captain Leon Johnson scored 41 and fellow left-hander Vishaul Singh made 35.
Hurricanes struck early, removing overnight batsmen VeerasammyPermaul and Johnson without much addition to the total.
Chanderpaul, however, came to the crease and anchored two stands that erased any hopes of the home team claiming their third straight victory over this opponent in this form of the game.
Chanderpaul added 63 for the fifth wicket with Singh and put on 125 for the sixth wicket with Bramble.
Playing his first match for the season, Chanderpaul faced 144 balls in just over 2 ¾ hours and collected 11 fours and two sixes, passing 27,000 first-class runs, when he reached 70.
Scorpions (176 for 8 declared) & 98 for 6 drew with Pride (304 for 7 declared) in Kingston, Jamaica.
Carter rebounded from a double-duck in the previous match against Hurricanes to hit a polished 103 that included 10 fours and one six from 186 balls in just over 3 ½ hours of batting.
He shared a number of useful stands along the way, including 53 for the sixth wicket with Justin Greaves that allowed the visitors to claim a 128-run first innings lead.
The Scorpions slipped to 37 for three in their second innings, but their captain Paul Palmer not out on 32 led the fight-back in the face of penetrative bowling from Test left-arm spinner JomelWarrican, who ended with 3 for 22 from 16 overs.
Red Force (402) & 24-0 beat Volcanoes (166) & (259 follow-on by 10 wickets in Port of Spain, Trinidad.
Smith was undefeated on 119 – his 31st first-class career hundred – as the Volcanoes were bowled out inside the final hour.
The compact left-hander from Grenada smashed 13 fours and one six from 240 balls in close to 5 ½ hours of batting, sharing half-century stands with Tarryck Gabriel for the third wicket and Shane Shillingford for the eighth wicket to beef-up the Volcanoes' total.
Shillingford made 52, Gabriel scored 25 and Kavem Hodge added 20, as the visitors' batting was undermined by left-arm fast-medium bowler and Player-of-the-Match Daniel St. Clair with 4-29 from 13 overs and leg-spinner Imran Khan with 4-67 from 22.2 overs.
Needing 24 for victory, Red Force knocked them off with little trouble just prior to the scheduled close with West Indies batsman Kyle Hope not out on 17 and left-handed opener Amir Jangoo not out on one.
But this was the third time that Smith carried his bat in the modern Windies first-class championship – and quite extraordinarily, all three times have been against Red Force at the same venue.
He previously achieved the feat in the 2014 season, when he was undefeated on 48 in a total of 122, and in the 2016-17 season, when he was not out on 86 in a total of 142.
There have been 14 instances in the modern Windies first-class championship of batsmen "carrying the bat", which refers to an opening batsman who is not dismissed ("not out") when the team's innings comes to a close after all 10 wickets have fallen.
Smith, playing his 120th match for Volcanoes, now has an unprecedented 25 hundreds in the modern Windies first-class championship.
Round 4 — November 16 to 19: Hurricanes versus Scorpions at Warner Park, St. Kitts; Red Force versus Jaguars, Brian Lara Cricket Ground, Trinidad (2:00 p.m.); Volcanoes versus Pride, Arnos Vale Sports Complex, Saint Vincent and the Grenadines.