All-Male Production Premieres November 23.
BRACE yourselves, theatre lovers, as the men take over the stage in the upcoming theatrical production, "Bèlèlesh", a 90-minute-long sketch about dance, visceral bodies and in-depth contemporary exploration of culture.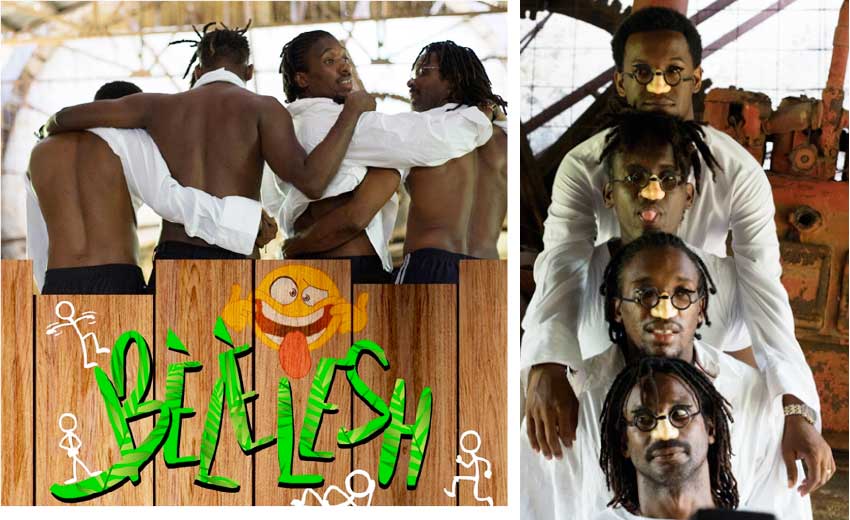 The production confronts points of masculinity, spirituality and community in no-holds-barred interrogation and begs the question: What are the rituals of our modern-day island life torn by ancestry, psyche and the brutal demands of globalization?
Bèlèlesh is staged by the Richard Ambrose Dance Theatre Project (RADTp), a creative group that was registered in 2011 as a result of a production its members did at the National Youth Awards around that time. Since then, RADTp has been engaged in various projects that include theatre and dancing.
Comprising an all-male cast, Bèlèlesh features Jaimie Forde, Christopher Duncan, Richard Ambrose and Lance Glasgow, who give the audience a sexy, arrogant and confrontational take on men's role in society as they openly show off the frailty of their perceived weaknesses, of which they are also proud.
"The all-male cast was intentional because we wanted to try to address certain issues in society at this time," Forde tells me. "The wave of feminism and the undercurrent of masculine suppression, attacks on boys in schools, and stuff like that. So part of it is making a social statement about male interaction: our vulnerability, insecurity and strength."
Ambrose said the group performed extracts of Bèlèlesh at Alliance Francaise during this year's Creole Heritage Month since the production hinges on creole identity, including the belair dance and other traditional forms.
Since then, the group has been testing the production on various audiences. However, they will be launching the full-scale production next Thursday and Friday (November 23-24) at 1:30 p.m. with a student matinee on each day at the Castries Town Hall. Admission is $10 for primary school students and $15 for secondary school students.
They also have dates booked for the Jon Odlum Secondary School gymnasium – on December 13, 15 and 16. Ambrose said the messages in the production are pertinent to many issues men face in Saint Lucia. As such, he said the group is seeking the public's support.
"We want sponsorship, but not just in terms of giving us money," he said. "We think that the production is interesting for all Saint Lucians to see what we can do with our folk forms. I'm fusing a lot of the contemporary studies I did in France. It's what I've been doing for the past few years. So we would want the business-places to bring their staff to take in the production. We want to encourage a lot of discussion on the form and what we're seeing."
Ambrose said the extracts of 'Bèlèlesh' the group has performed to date has received a great deal of positive feedback from people who don't necessarily understand contemporary art but are interested about finding out what it is and why they are doing it.
"We received a really wonderful review from the folks at Alliance Francaise, who said it's been a long time they wanted to see this level of art in Saint Lucia," he said. "So that's what we really want to do: help educate the public about what's out there and what we can do with the natural resources we have."