ALGAS Organics Inc., Saint Lucia's — and perhaps the Caribbean's — first indigenous agriculture biotechnology manufacturer, has successfully achieved a major milestone of exporting its world-class product, The Algas Total Plant Tonic, to Barbados. One pallet of product set sail for Bridgetown on Monday, October 23 this year and has reached its destination safely.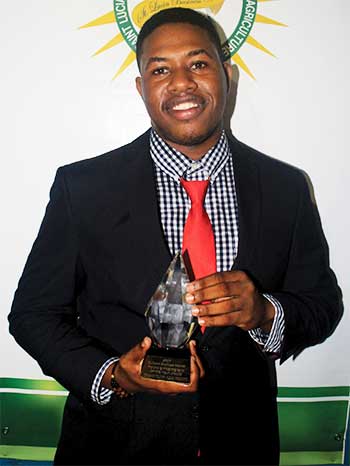 Since its inception, the St. Lucia community-based company has had its sights set on revolutionizing the agricultural sector through the production of all-natural agrochemicals, which are effective and do not harm the users or the environment.
Managing Director, Johanan Dujon, says: "Barbados is a tough market to get into for agrochemicals. So the fact that our product could face the rigours of their Ministry of Agriculture is a testament to the product's quality."
He added: "It is time we in St. Lucia and the wider Caribbean shift the agriculture sector paradigm. Why should we continue to import harmful chemicals for use in our agriculture, which later come back to haunt us with all kinds of illnesses, including cancers? We have proven that we have the ability to formulate, produce and export world-class products which are environmentally-friendly and perform even better than imported agrochemical brands — right there in the small fishing village of Dennery, in Saint Lucia."
Algas Organics was founded in 2014 to develop a solution to the Sargassum Seaweed affecting St. Lucia and the wider Caribbean. Initially started in his parents' backyard, the company successfully developed the formula for a bio-stimulant from the seaweed species.
Through a partnership with the St. Lucia Fisherfolk Cooperative Society Ltd, funding from GEF SGP UNDP and support from IICA, the company has removed up to 1,000,000 kg. (2.2 million pounds) of seaweed from the beach at Micoud and Dennery. This in turn has stimulated economic opportunities for 15 people, as well as heavy equipment operators and truckers. Such a result has been achieved in less than two years.
Rather than throwing the collected material away, Algas Organics processes large quantities of the seaweed into the Algas Total Plant Tonic and retails and wholesales in Saint Lucia and, more recently, the regional market. Important to note is that Saint Lucia has become the ONLY country in the Lesser Antilles — and perhaps the wider Caribbean — with a sustainable solution to this Sargassum challenge.
In early 2018, Saint Lucia will become home to the Caribbean's first Sargassum Seaweed processing plant, to be located at Bosque d'Or, Dennery. In the second phase of development of the plant, which is expected to begin in early 2018, the company is projecting a fully-solarized plant which will contain an in-house laboratory to facilitate continued research.
"Continued research and testing, Johanan explained, "is part of our strategy for success."
Success has come through many twists and turns and there were many rivers to cross and mountains to climb, and throughout the last two years, Johanan has been the torchbearer. For his resourcefulness, entrepreneurial instincts, and strong community values, Johanan has received accolades from a number of organizations such as:
– St. Lucia Chamber of Commerce (Young Entrepreneur of the Year)
– OECS Commission (Top Entrepreneur Under 30)
– Caribbean Beat Magazine, Trinidad and Tobago, (Top 25 Achievers Under 25)
– Smithsonian Institution, USA, (Speaker at Earth Optimism Summit)
– Antigua Observer
– World Algae News
– People Bokay France Media
Even as a startup, Algas Organics strongly believes in corporate social responsibility. The company has partnered with the OECS Commission to aid in the rebuilding of Dominica's agriculture industry, through donation of its bio-stimulant. The company, Johanan explains, stands willing to aid the other islands affected by Hurricane Maria and Irma to get back on their feet on their way to food and nutritional security. The company he says, "strongly believes in community."
Looking into the future, Johanan noted that St. Lucia has an amazing variety of biodiversity, which could be converted into agrochemicals and pharmaceuticals. This represents a unique opportunity for the island to create a global niche using indigenous plants. In partnership with organisations such as the GEF SGP UNDP and IICA, Algas Organics has a vision that one day Saint Lucia will become a centre or a hub for such innovation. Johanan looks to the future with great expectations and so do all his partners.
Finally, Johanan, would like to thank his family, other members of his team, as well as the GEF SGP UNDP, the Inter-American Institution for Cooperation on Agriculture (IICA), St. Lucia Fisherfolk Cooperative Society and the Ministry of Commerce for their continued support. They, he argued, have been the wind beneath his wings. We say FLY, Johanan, and continue to make us proud!