ANSE LA RAYE Veterans are through to the quarterfinal stage of this year's Veterans In Sports Inc. tournament. They survived several scoring opportunities against Behind the College All Stars, mainly in the second half of play, to win their third consecutive game by 1-0, becoming the first team to qualify. They will now play the winner of Group A on Saturday, January 13, 2018.
The halftime score was goalless, but following the break, BTC, led by former national midfield player Trevor Cadet, upped the pace and for well over 10 minutes into the half kept relentless pressure on Anse la Raye. As to how they survived that barrage of scoring opportunities which included four corners, is rather difficult to say. But two players stood in BTC's way at the time: goalkeeper Ryan Esnard and central defender Dominic Leonty.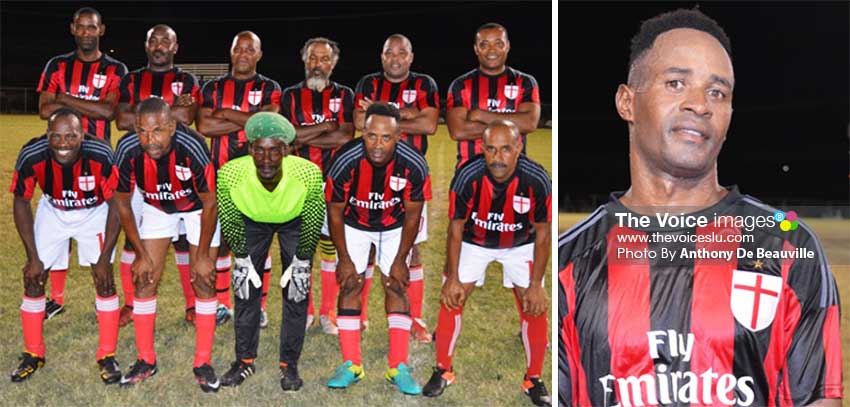 Esnard came up with three magnificent saves during the onslaught when the BTC players thought they had nosed ahead in the encounter. Esnard went full body length to deny them that opportunity, while Leonty took command of the defense with calmness, leading from the back.
Finally, the ball was cleared away from ALR's area and in so doing, Mervin St. Croix, running on the right flank heading north towards the players pavilion, didn't have much to do as his right foot shot eluded BTC goalkeeper Terrel Compton to his right in the 60th minute. Despite BTC's fight for the equalizer, that's how the scoreline remained until Referee Thomas Francois' final whistle.
Meanwhile, the VISI train will whistle its way to Mabouya Valley this weekend with another series of matches scheduled for the La Ressource playing field.
A total of six matches are on the card over the next two days as the excitement and expectations continue to build amongst the participating teams.

Today from 4:00 p.m., Plate Champions Vieux Fort South, currently on three points from their 1-0 win against defending champions VSADC, will play Congorians. Congorians went down to Marchand 1-2 in their opening encounter.
Newcomers Labowi Connextions will want to continue their winning ways. They opened their campaign with a 3-0 win over Mon Repos Sharks, and will now play Micoud Veterans, who will be looking for their first win following their 2-0 defeat at the hands of Gros Islet Veterans.
In the final game this evening, newcomers Marchand Veterans, with 3 points under their belt after defeating Congorians 2-1, will take on the home team Valley Legends, who are also on 3 points after their impressive outing against VSADC, defeating them 2-0 at the Soufriere Mini Stadium.
Tomorrow, from 3:00 p.m., Vieux Fort North, after losing 3-2 to Soufriere in a hard-fought encounter last weekend, will look to make amends when they play Prophets and Kings. Prophets and Kings are in a must-win situation after losing both of their games played to date. They went down to All Blacks: Dennery in their opening encounter 3-1, and Laborie to Veterans 2-1 last weekend.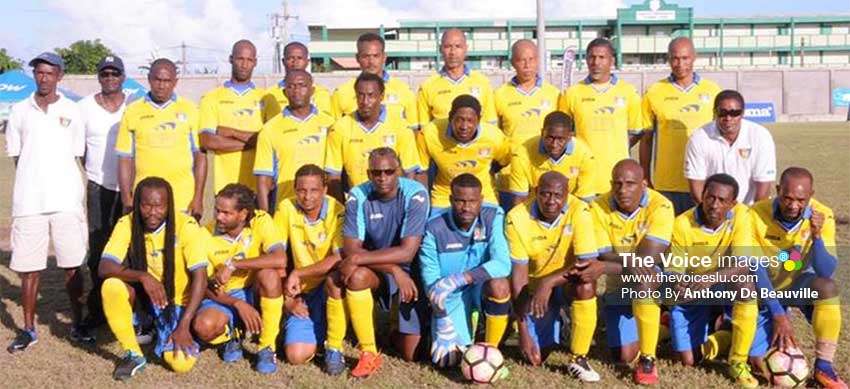 This is a must-see encounter as Group C leaders Soufriere Veterans with 6 points will play All Blacks: Dennery at 5:00 p.m.
A win for Soufriere Veterans will see them as the second team to qualify for the quarterfinal; a win for All Black: Dennery will see both teams tied on 6 points. In terms of matches remaining, All Blacks: Dennery have 2 and Soufriere Veterans 1.
To bring the curtains down on the weekend showpiece in the Valley, Canaries will want to make amends following their 4-0 battering at the hands of Anse la Raye Veterans at the Soufriere Mini Stadium. They will take on former champions Caricom Masters at 7:00 p.m. Caricom Masters are in dire need of a victory following their 1-1 draw with BTC in the tournament opener at the Phillip Marcellin Grounds.