SWIMMER Mikaili Charlemagne from Sharks Swim Club has earned The VOICE's Athlete of the Week honours after her monumental performance at the Capri Sun Short Course event dubbed "OECS Swim Trials" held over the October 7-8 weekend at the Rodney Heights Aquatic Centre.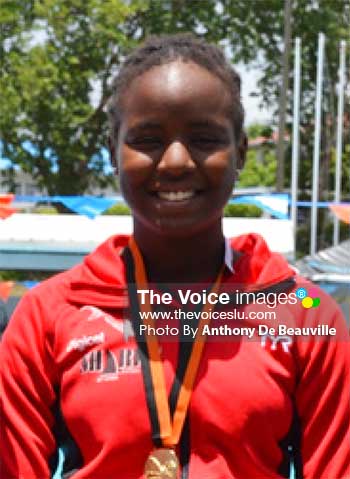 An elated Coach David Peterkin spoke to The VOICE about Mikaili's performance;
"Mikaili is very deserving of this award and I can't wait to see what else she will accomplish before the season is over. She really is a champion and will be a champion for years to come. I feel all the way to the Olympics," Peterkin said.
Mikaili earned her first VOICE Athlete of the Week accolade after winning every single event she participated in at the event: eleven gold medals in total and 11 best times.
Mikaili, who celebrated her 14th birthday last Wednesday is a Form 4 student of St. Joseph's Convent, placed first in the 50-metre freestyle (27:95 seconds), 1st in the 100-metres freestyle (1 minute, 02: 25 seconds), 1st in the 200-metre freestyle (2 minutes, 21: 21 seconds) 1st in the 400-metre freestyle (5 minutes, 20:09 seconds), 1st in the 50-metre backstroke (32:64 seconds).
Mikaili continued her winning ways with victories in the 100-metre breaststroke (1 minute, 13:34 seconds), the 50-metre breaststroke (39:95 seconds), the 100-metre breaststroke (1 minute, 27:69 seconds), the 50-metre butterfly (31:01 seconds), the 100-metre butterfly (1 minute, 11:69 seconds) and the 200-metre Individual Medley (2 minutes, 41:11 seconds).
She went on to score 99 points to capture the top award in the Girls 13-14 age group.
Mikaili will represent Saint Lucia at the upcoming OECS Swim Championship here next month as Saint Lucia seeks to regain the championship.