Opposition Leader Philip J. Pierre on Tuesday downplayed government's enthusiasm over a Chamber of Commerce survey that showed 60 percent of respondents reporting an increase in sales during the first six months of this year.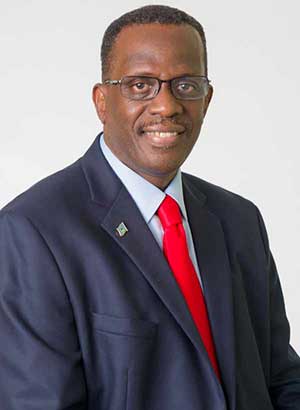 The survey, released about a week ago, was a business performance survey conducted amongst members of the Chamber.
Responses were received from a wide cross-section of sectors, save for agriculture. The Chamber noted that the retail, banking and finance, distribution and other services were the sectors with the largest number of respondents.
According to the survey, 60.9 percent of respondents reported an increase in sales during January–June, compared to the period July–December last year, with 39.1 percent reported a decrease.
The survey further claimed that 65.2 percent of respondents reported that sales during the period January–June this year increased over the sale for the same period in 2016, and 34.8 percent of respondents reported lower sales.
Minister in the Department of Finance, Dr.Ubaldus Raymond, said government was not surprised with the results of the survey and that the local business community is very optimistic about the future compared to the time the former administration was in power.
He denied that the reduction in the Value Added Tax (VAT) from 15 percent to 12.5 percent reduced government's earnings and registered as a loss of revenue to government.
Dr. Raymond said the reduction in the VAT filtered to the average consumer, hence an increase confidence in the economy, leading to an increase in sales.
But Pierre scoffed at the views expressed by Dr. Raymond, stating that "Desperate for some good news on the sorry state of the economy, the government hastily latched on to a statement from the Chamber of Commerce indicating that some businesses were reporting an increase in sales for the first half of the year."
After calling on the government to indicate the projects it has initiated that would have led to an improvement in the economy, Pierre noted that the survey spoke to an increase in sales — not in profits. He added that an increase in sales can be caused by an increase in prices or, possibly, by the reduction in VAT not being passed on to the consumers and that this may be the reason why consumers have not felt the benefits of any VAT reduction.
"The Saint Lucia Labour Party asks whether the vendor, small business-person, taxi driver, minibus driver, unemployed youth can relate to any improvement in the economy.
"The working people are not feeling any improvement in their pockets, they still have to deal with increased gas prices, increase prices of cooking gas, increase in the prices of medication. If there is an improvement in the economy, it is enjoyed only by friends and family of the government who receive large contracts by direct award and enjoy generous tax benefits at the expense of the ordinary St. Lucian," Pierre said.