THE National Workers Union (NWU) last Friday paid tribute to Governor General, Her Excellency Dame Pearlette Louisy, for her sterling service to country in education, leadership and governorship. Above all, though, the trade union lauded her for her ability to remain humble and show kinship to the working class despite her elevated position.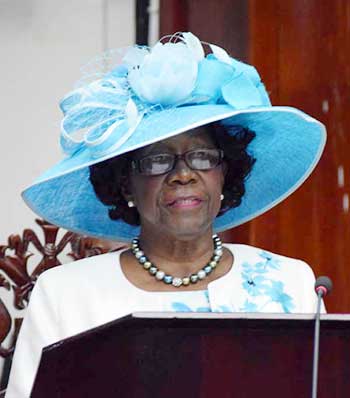 Describing her as "one of our own", the NWU cited her humble background and upbringing, portraying her as an example of what children of working parents can achieve if they are prepared to apply themselves.
Born on June 8, 1946, in the village of Laborie, Dame Calliopa Pearlette Louisy received her early education at Laborie Girls Primary and Mixed Infant School. Discipline and a willingness to learn saw young Calliopa at age 10 topping the Sixth Standard Exam and being entrusted with some of the duties of a teacher.
At age 12, she wrote the teachers examination and came first nationwide. In 1960, she moved to Castries to attend St. Joseph's Convent where she retained her record as the number one student, according to the tribute paid to her by Lawrence Poyotte of the NWU.
Her academic performance at St. Joseph's Convent earned her the Canadian International Development Agency (CIDA) Scholarship in the 1966 to pursue a Bachelor's Degree in English and French at Cave Hill Campus of the University of the West Indies.
At Cave Hill, she received the award for student of the year, an award given on the basis of a student's academic performance and involvement in campus activities.
She was awarded the Canadian Commonwealth Scholarship and Fellowship Plan in 1972 to pursue a Master of Arts Degree in Linguistics at the University of Laval in Quebec, Canada. In 1991, she moved to the University of Bristol, United Kingdom, where she read for a Ph.D in Higher Education.
Dame Pearlette has a long and distinguished career in education as a graduate teacher at her alma mater, St. Joseph's Convent, during the periods 1969–1972 and from 1975–1976 as a tutor of French, as Principal of St. Lucia's "A" Level College and Vice-Principal of the Sir Arthur Lewis Community College. Prior to her appointment as Governor General in 1997, she served as Principal of Sir Arthur Lewis Community College.
As Governor General, Dame Pearlette continued her academic work and research in the areas of higher education for Sustainable Development, Comparative and International and Small States issues and her articles and work have been published in international journals and publications.
She complements her interest in education with a love for the culture and the performing arts and continues to spearhead and promote research in the creole culture as well as development. She is the recipient of several local, regional and international awards for her contribution to education, culture and her commitment to the Catholic faith.