PRESS RELEASE – SCORES of St. Lucian business executives got a full appreciation of the equipment that drives the future office and how it can positively impact productivity and profitability at the Xerox Future of Work Global Tour.
Xerox, in conjunction with J.E. Bergasse & Company Ltd, on Friday, October 20, exhibited a new generation of workplace assistants that will revolutionise how tasks related to printing, copying, scanning and storing documents are performed.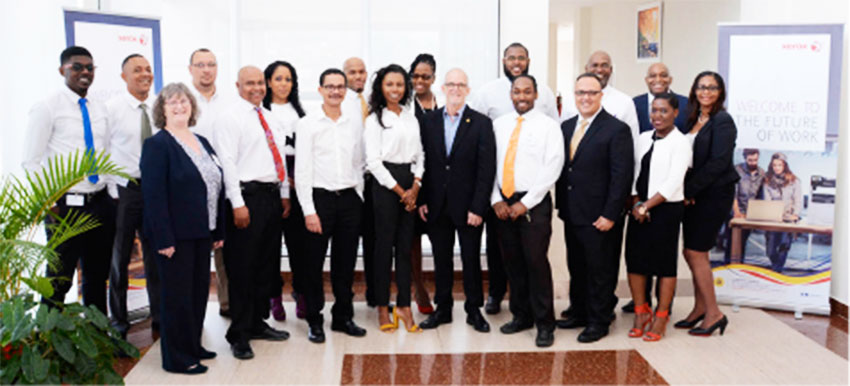 J. E. Bergasse is the leading supplier in Saint Lucia of office and production equipment, stationery and supplies, as well as cutting edge business solutions and software. In addition, they have been a Xerox premium business partner and distributor for over 40 years.
St. Lucia was the first in the region to have a demonstration from Xerox of newly-launched workplace technologies from the Xerox ConnectKey® portfolio of 29 new Xerox AltaLink® and Xerox VersaLink® multifunction devices and their associated ConnectKey apps. The new suite of Xerox machines improves workplace productivity by automating everyday office tasks.
Xerox representative at "Future of Work"
Included in the more than 40 apps available on Xerox's App Gallery are the Xerox Easy Translator Service, which can instantly translate documents fed through the scanner into more than 40 languages, and the Xerox Healthcare MFP Solution, which allows for the secure sharing of patient information in healthcare settings.
Managing Director of J. E. Bergasse & Company Ltd, Anthony Bergasse, noted that "the featured multi-function printers are driven by apps that allow a wide range of tasks to be performed quickly and efficiently. The new technology from Xerox allows for apps to be customised to a business's specific needs and requirements."
The event, which was held at the Finance Administrative Centre Conference Facility in Point Seraphine, took the format of a lunch-and-learn session and provided guests with the experience of a solutions technology demonstration, making the event truly interactive. On display were five 5 Solutions Showcase Zones featuring an Intuitive User Experience with Apps@Work, A Gateway To New Possibilities, Mobile and Cloud, Benchmark Security and Next Generation Services.
While getting hands-on experience with the new devices, including learning how to create personalized apps and solutions, the J.E. Bergasse Sales Team and Xerox Executives demonstrated the capabilities of the Xerox AltaLink and Xerox VersaLink machines as well as the print output.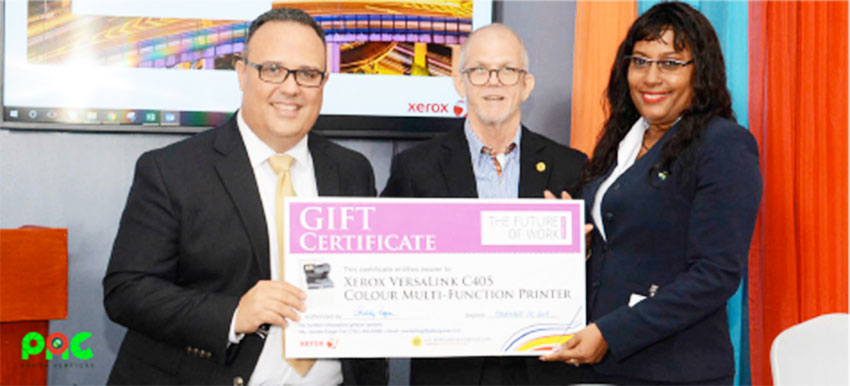 The event's exclusive sponsor, Cable & Wireless Business, supported the solutions showcase area with dedicated internet access and wireless points.
Guest Speaker Jonathan Cox – Corporate Account Manager, Cable & Wireless Business, said, "Technology continues to change our daily lives in and out of the workplace. Cable & Wireless Business understands this change and will continue to provide solutions for adapting to those changes. For the new apps of the Connectkey technology, we can bring to our partners and customers solutions that will enhance its features of mobility, security and customisation so they can improve the way they work."
Presenters at the event included Xerox Distributor Group's Joel Mendoza — Country Manager, Development Market Operations; and Martin Sharpe – XPPS/MPS Business Manager, Latin America & Caribbean Region, who provided in-depth knowledge on all the new Xerox ConnectKey-enabled printers and multi-function devices and how these products come in different sizes, speed and functionalities for small to medium businesses and large enterprises. All backed up with apps for the digital experience of cloud, mobile, security, workflow automation solutions and managed print services.
During the presentations J.E. Bergasse also received special recognition and accreditation for Xerox's Management Print Services (MPS). The Xerox MPS Program provides Sales Representatives and Analysts custom training and exclusive access to sales and assessment tools. The programme embodies Xerox's sustained efforts to help customers with small businesses to optimize their document processes and printing costs.
The feedback overall was very positive and the participants were enthralled and excited about the new ConnectKey technology. Adding to the excitement was a grand prize raffle of a Xerox VersaLink C405 multifunction printer won by Gillian Polius from Sagicor General.
For more information on the Future Of Work Global Tour in Saint Lucia, please contact J.E. Bergasse & Company Ltd. via email at sales@jebergasse.com or (758) 456-6500/44.