STUDENTS from Sir Arthur Lewis Community College (SALCC), as well as from secondary schools across the island were this week afforded the opportunity to receive some valuable information on potential colleges and universities in Canada.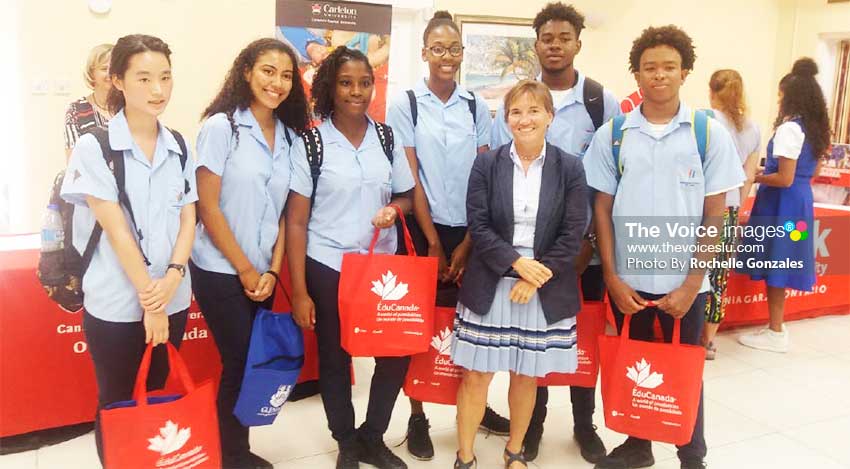 This occurred in the form of an education fair which took place at Bay Gardens Hotel on Wednesday and hosted by the High Commissioner of Canada for the fourth year running.
On island were representatives from ten different educational institutions who were readily available to showcase their respective institutes to all who were interested, in a bid to attracting potential students into enrolling to pursue further education.
The High Commissioner, Marie Legault, was present to meet and greet interested parties. She said the event was organised to let St. Lucians know about Canada's colleges and universities.
She said: "It's always good for you to know first-hand and talk to the people from the schools if you have questions. We have somebody from our immigration and citizenship section, so they can tell you about specifics if you need to get a student visa, as well as what the opportunities are. As a student, you can work in Canada. There are certain conditions when you study there, so it's basically just to let people know."
She also had reassuring words for concerned parents: "When you're a parent, you're always worried, so it's also to reassure the parents about what's going on in the schools, the campuses and how life is in Canada."
Legault boasted the beauty, inclusivity and diversity of her homeland, saying that Canada is filled with vibrant and activity-filled cities, as well as a healthy recognition and respect for nature and culture.
She said: "We are a very open society, and we have people from everywhere — that's who we are. We enjoy it and we thrive on it and also we're a very safe country. So those are the basic benefits of studying in Canada and that's what we want everybody to know when they make their choice."
She added: "In terms of price, we're more affordable than other countries and in other campuses, so that's a plus."
Legault revealed that the fair has grown in size and interest over the past four years, which is a promising sign. Wednesday's fair also doubled up as a celebration as the country celebrates its150th anniversary.
The High Commissioner said: "A lot of those years have been very closely linked to the Caribbean. We've built schools and airports here, and we've continued to have very close linkages between our people, our institutions, and our politicians. So we're very close and we'll continue to be that."
As part of their celebrations, Canada paid special homage to islands struck by Hurricanes Irma and Maria as a sign of goodwill.