A fresh new batch of top of the line IT professionals have been unleashed, thanks to the expertise of the National Skills Development Centre (NSDC) in partnership with the Computing Technology Industry Association (CompTIA).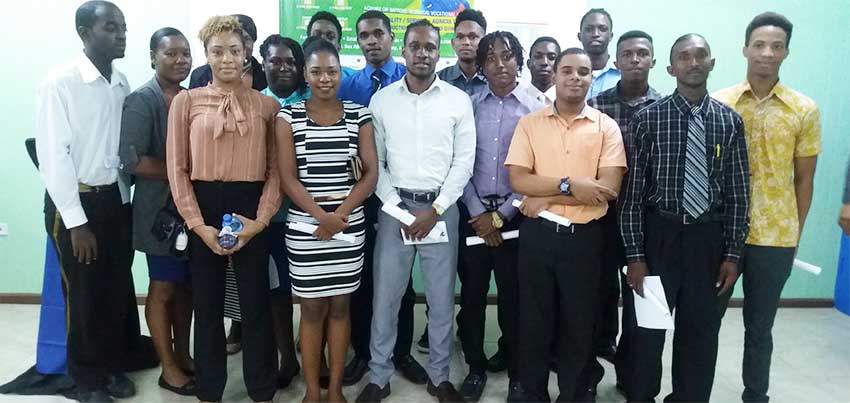 During a graduation ceremony at NSDC in Bisee on Friday, 21 students graduated and received their A+ certificates, as well as four staff members who also received training with the tech giant.
CompTIA is one of the world's leading IT specialists, whose certificates are recognised and accepted worldwide, and boasts over two million certified graduates under their belts.
This year, NSDC partnered with CompTIA for the first time and Friday's graduation ceremony doubled as the learning institution's partnership launch with the company, as well as their new testing centre at the facility.
Selma St. Prix, General Manager of NSDC, gleefully said she was beyond happy with the partnership and is looking forward to continued works with CompTIA to produce future IT professionals in St. Lucia.
St. Prix said: "It takes us to a new level in what we do, and it also boosts the economy. It helps the powers-that-be because we have new people going out there. We already have a number of them employed, even before their graduation. The others, there are potential employers looking at them already. So we are saying that even before our trainees are certified, knowing of this kind of international certification, the employers are already asking for these trainees."
St. Prix implored other learning institutions to adopt the posture of getting their future employees to take the certification course, as this will allow them to prove their worth to the respective organisations.
Senior Network Administrator/IT trainer at NSDC, Kurt Augustin, was one of the four staff members who took and aced the course. He said he saw the benefits of taking up the course and seized it without hesitation.
Augustin said he sees more partnerships coming to NSDC because of this initial pairing with CompTIA.
"Those certifications, more or less, are done in a way to ensure that you have all the skills necessary to be an IT professional," Augustin said. "They always review those certifications on a three-year basis, so they are always up-to-date.
"The pass mark for attaining that certificate is 90%. That means that if you pass this certification, you definitely know 100% that you just made 10% error, more or less. Some of the students almost got 100%, and those exams are not as easy as one might think they are; the testing is very complex."
The three-month course consisted of both practical and theory aspects, whereby trainees were faced with tasks, including building computers, as well as running of labs and a network.
The course also features one month of apprenticeship, where trainees are placed with different organisations and, according to both Augustin and St. Prix, trainees most likely kept following apprenticeship or had a high probability of gaining employment soon after the completion of courses.