THE Saint Lucia Olympic Committee (SLOC) finally opened its new office in La Clery, Castries on Sunday, September 10. The EC$2.3 million facility is adjacent to Massy Store and just a stone's throw from the George F.L. Charles Airport.
Presidents from various Olympic Committees were in attendance, including Brian Lewis, Caribbean Association of Olympic Committees; Steve Stout, Central America and Caribbean Sports Organization; Trevor Bailey, Saint Vincent and the Grenadines Olympic Committee; and Veda Bruno-Victor, Grenada Olympic Committee.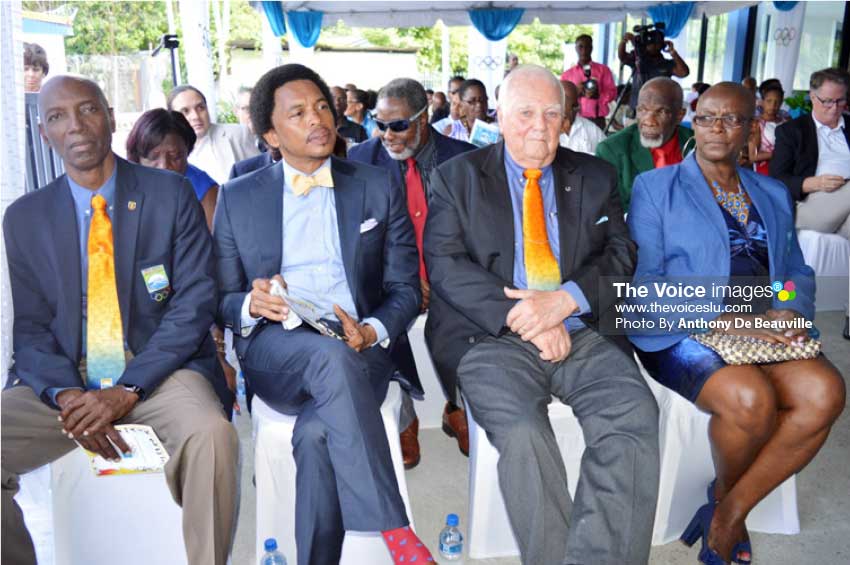 On the local front, the gathering included Minister for Youth Development and Sports, Edmund Estaphane; Minister for National Security, Hermangild Francis; Minister for Health and Wellness, Mary Isaac; and Minister for Foreign Affairs, Sarah Flood-Beaubrun.
Also in attendance were members of the Diplomatic Corps, Presidents of the various national sports federations, Saint Lucia's gold medal team (Beach Football) at the recently-held Commonwealth Youth Games in the Bahamas, and executive members of the SLOC.
Speaking at the opening ceremony, Fortuna Belrose, President of the Saint Lucia Olympic Committee, said, "Thirty years ago — January 22, 1987, to be exact — the SLOC was born. It was part of the vision plan of the Ministry of Sports to see that Saint Lucia attained international recognition. At the time, we had few national sports federations affiliated to international federations. For Saint Lucia to make strides and create further opportunities for its people through sports, it was necessary to become part of the Olympic movement."
She continued, "To qualify to become part of that movement, Saint Lucia needed to have at least six sports which were in good standing with their international federation, five of which had to be Olympic sports. At that time, for us (these were) athletics, boxing, cycling, tennis and volleyball, but not all of them were members of international federations then. The sports of netball and bodybuilding were also very prominent in those days, but were not Olympic Sports."
At present, there are 20 national sports federations affiliated to their respective international governing bodies and also are members of the SLOC.
"This building, therefore, belongs to our members," Belrose said. "For many years, we have been clamouring for a place to call home, a place where we as sports people can come and be renewed, a place where we can come and engage each other constructively, a place where we could share experiences and be uplifted, particularly when the going gets tough."
The building consists of office space for SLOC members, a modern conference facility, training room, museum, library, board room, and a flexible rooftop. Funding for the facility came from the International Olympic Committee, Pan American Sports Organization and SLOC.
Meanwhile, former Youth and Sports Officer and now President of the Saint Lucia Athletic Federation, Andrew Magloire, and former Permanent Secretary in the Ministry of Sports, Aldith Isaac, were recognized by the SLOC President for championing the cause in seeing Saint Lucia attain Olympic status. The two stalwarts were presented with plaques. Also recognized were Greta Steadman and General Secretary, Alfred Emmanuel, for their sterling contribution to the development to the Olympic movement in Saint Lucia.