THE National Emergency Management Organization (NEMO) is undertaking a single appeal for assistance to all hurricane-affected countries in the region.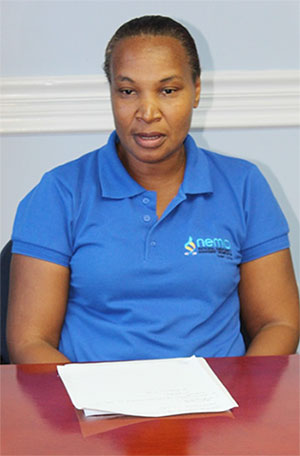 Velda Joseph, NEMO's Director, told The VOICE yesterday that although Dominica's situation came more than a week after those of Barbuda, Turks and Caicos Islands, Anguilla and the British Virgin Islands, NEMO will not embark on another appeal just for Dominica.
"We are doing one appeal for emergency relief items to service all of the affected states we have in the Caribbean," Joseph said.
This week, another Category 5 hurricane, Maria, passed over Dominica during the late hours of Monday night and early Tuesday morning, causing untold damage to the country's infrastructure, agriculture and economic development. Prior to press time yesterday, it was reported that the hurricane had claimed seven lives.
NEMO revved up its appeal to the affected countries immediately after news of Dominica's destruction became known. Joseph said some of the supplies NEMO has received will now have to be shared with Dominica.
But there is a problem. Getting the supplies and having them in a state of preparedness for shipping is the easy part. The hard part is getting the supplies to Dominica which, by all accounts, is badly in need of them.
By Joseph's own account, the supplies cannot be dispatched to Dominica as yet because more than 24 hours after the hurricane's passage, communications in and out of Dominica was still dead. NEMO is unable to get in touch with its sister office in Dominica, called the Office of Disaster Management (ODM).
"Right now, we cannot dispatch, but as soon as we get word from Dominica as it relates to the condition of the airports and seaports, we can then make a determination as to the means of transportation we can use to dispatch what we have," Joseph said.
NEMO is already in touch with CDEMA (Caribbean Emergency Disaster Management Agency), which is in touch with the Regional Security System (RSS), which is liaising with the Ministry of Justice to secure the use of the Coast Guard vessel to assist in getting stuff over to Dominica.
NEMO is also awaiting word from Dominica regarding its needs. A search and rescue team from St. Lucia is already on standby and a rapid assessment team is being put together. NEMO for now will be accepting cleaning items, non-edible items, items pertaining to hygiene, and water.
"We will make a concerted effort at getting supplies over to Dominica, both in terms of emergency supplies and personnel.
"I tried the very night we were expecting the hurricane but we have not been able to contact that office. However, through ham radio, we were able to touch base with Dominica. We still have yet to get a very clear picture of the situation in Dominica," Joseph said prior to press time yesterday.
Meanwhile, St. Lucia's Cabinet of Ministers, who met on Tuesday to map out a response to Dominica, noted that plans were underway to make St. Lucia an operational base for the relief effort to Dominica.
Lenard Montoute, Acting Prime Minister at the time, who ordered a shutdown of St. Lucia on Monday and giving the all-clear sign mid-morning Tuesday, said the situation in Dominica is critical.
Montoute called for prayers for the Nature Isle in their time of need while stating the situation was critical.
"Right now, our thoughts are with Prime Minister Roosevelt Skerrit and the people of Dominica. Preliminary information is that we have widespread devastation in Dominica. From our understanding, they are facing a very critical situation and our prayers are with them, as our sister and neighbour. We have to respond and do what we can to assist our brothers and sisters in Dominica," Montoute said.
According to Montoute, communication has been made with the French and Venezuelan authorities in terms of assistance.
"As you can well appreciate, the airports are not operational; neither are the seaports. Reconnaissance flights will have to be made to ascertain the actual situation on the ground and for immediate preparation to be made for the landing of helicopters and other aircrafts.
"We are looking at what assistance we can give immediately and that may entail medical assistance and sending medical personnel and people with expertise in search and rescue. We are hoping that…an assessment of the situation would have been made and we can get a better appreciation of the kind of assistance that is immediately required," Montoute said.
As difficult as communication going in and coming out of Dominica is at the moment, the outside world has so far gotten more than a glimmer of the destruction caused by Hurricane Maria.
Some media outlets have placed the deaths caused by the hurricane at seven with fears that the death toll could rise as search parties reach communities cut off from the rest of the country.
Statements from both Prime Minister Skeritt and his principal advisor, Hartley Henry, noted that much of the island's housing stock had been damaged or destroyed by the hurricane. There is no electricity, no running water and no cellphone service. Skeritt initially said they had lost everything money can buy.