ST. LUCIA and the OECS Commission are pushing ahead with efforts to relieve the plight of citizens in countries in the northern Caribbean who were ravaged by Hurricane Irma over the past few days.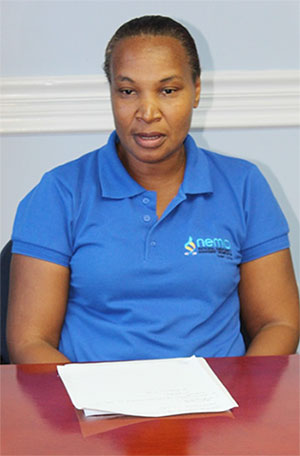 The National Emergency Management Office (NEMO) was yesterday preparing a vessel loaded with bottled water, and an airplane, compliments the Venezuelan government, with more water and hygiene kits to Antigua for onward distribution to the affected countries.
"We have pursued mobilization on two levels. There has been a call for mobilization of personnel to be able to assist the impacted countries. In fact, the request has been for persons to assist in damage assessment and for operational support to the emergency support centre in Anguilla and the British Virgin Islands, in particular. We have identified persons (who) are on standby and through CDEMA, we expect that the deployment of these individuals would be as early as Sunday," said NEMO's Director, Velda Joseph.
She said NEMO had pursued mobilization of resources as per specific requests from impacted countries. Two thousand and sixteen cases of 1.5-litre bottled water were loaded onto the Venezuelan military aircraft yesterday as well as 105 boxes of hygiene kits. The aircraft will drop off its cargo in Antigua.
NEMO was also looking to ship five 20-foot containers loaded with bottled water to St. Kitts and Nevis for onward distribution to the affected countries yesterday afternoon.
Prime Minister Allen Chastanet is hoping that permission could be received from the Venezuelan Government to allow civilians from the affected countries to fly on the aircraft from the affected countries to Antigua. He hopes that the plane could go as far as the British Virgin Islands to evacuate nationals of member states of the OECS.
The Venezuelan Government has loaned two C-31 military planes for the relief efforts coming out of St. Lucia and the OECS Commission. One aircraft will act as a bridge to Barbuda, the most affected island to date in terms of helping with the evacuation of people there. To date, 300 people have agreed to evacuate.