PRESS RELEASE – THE response of artists has been very encouraging for 100 Thousand Poets for Change. The global event, which takes place in over ninety countries, on September 30, will see the hosting of over 500 events.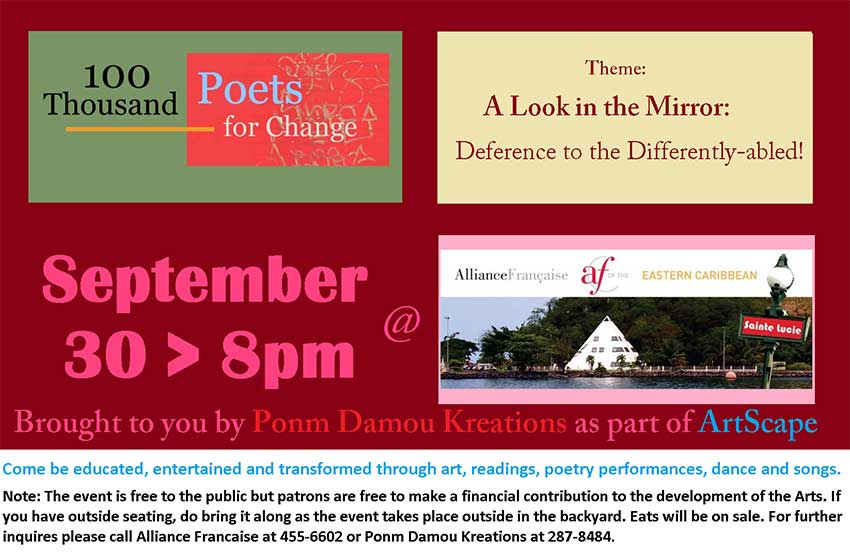 In St. Lucia, PonmDamouKreations is overseeing the organization of the local leg. This is the second subsequent year that the arts and entertainment company is playing host to the event. This year's theme is "A Look in the Mirror: Deference to the Differently-abled".
"This year, we have chosen to put the focus on people with special needs. Quite a few artists have responded to the call to participate and we have been getting the co-operation of a number of relevant institutions. Our major challenge is finance," said Kensley Charlemagne, manager of PonmDamouKreations.
The night will see a number of poets speaking on the issue and quite a few artists with disabilities will showcase their talent on the night, including Rosemond Clery; students of the Dunnotar School; and a reading by author Sherma Thomas, who has cerebral palsy. Other supporting artists include Aagee Simpson, ShermaModeste, Roger Joseph, Alex "Synchroniz" Daniel, Joshua Harrow and Jamie Alcindor.
"There will be poets, singers, music and dance. We made the call for art but so far none has responded," Charlemagne added. "The event is not just about display. It is about speaking truth to the powers-that-be as well as hitting the society where it hurts."
The 100 Thousand Poets for Change is the launching of ArtScape, a regular monthly event that will showcase all spectrums of the arts at Alliance Francaise. It will continue regularly every third Thursday of the month thereafter.
The event is free to the public and starts at 8:00 p.m. Patrons are asked to walk with portable chairs if they have one as the event will take place in the backyard at the Alliance Francaise, Pointe Seraphine. Eats and drink will be on sale.