THE fourth annual Youth Summer Arts Platform (YSAP) ended on Wednesday evening with its participants staging their theatrical production, "The Magic Door", at the National Cultural Centre (NCC). The production included live acting as well as video montages of the participants' journey throughout this year's programme.
The four-week summer programme, which began in 2014, is among the Cultural Development Foundation (CDF) Training Department's flagship activities and was adopted in order to "revamp and reenergize our training and development programmes", Celeste Burton, Director of Training, Promotion and Development at CDF, said on Wednesday.
"Since our summer programmes focus on the development of the youth, we thought it fitting to continue to find creative ways of introducing our young people to our culture and ensuring that as a cultural development foundation, we continue to fulfil our mandate: that of preserving our cultural heritage as well as developing it," she said.
Burton said part of that development focuses on sustainability – ensuring that the various Saint Lucia cultural art forms are passed on to successive generations. Over the past three years, she said CDF has tried to introduce young people to dance, music, drama, film and photography, as well as engaging them in workshops in graphic design and art.
"So far, we are satisfied with what we've done," Burton said. "The response from the young people is encouraging, so we thank the parents for encouraging their children who sometimes are bored with everything Saint Lucian."
Despite facing several challenges, Burton said CDF continues to motivate and entice young people in developing interest in Saint Lucian culture. This year's programme had a special twist to it: CDF decided to take the youngsters into the community to experience firsthand what that culture is like.
"In the past three years, they've been sitting in classrooms, operating in dance studios and taught the skills of the various art forms. The decision to take them out into the community was motivated by several observations that we have made over the past three years: that rather than teaching them, we wanted them to find out for themselves," she explained.
The students were taken to Piaye, where they spent five days and engaged with dance group, Twadisyon Opiaye. They were also taught the traditional dances and songs. In the end, the facilitators challenged them to develop a production that reflected their overall experiences.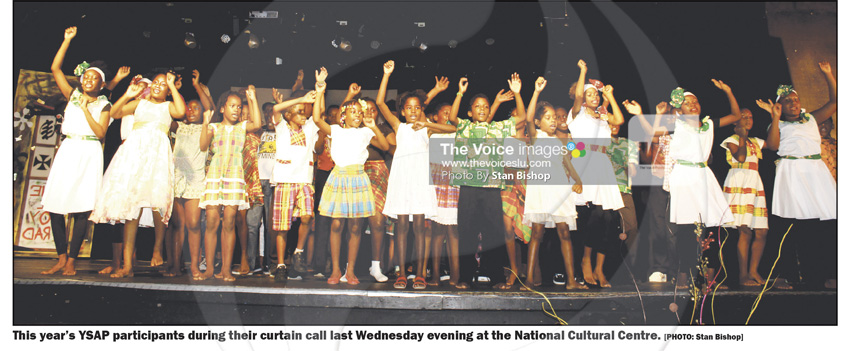 YSAP Coordinator, Shakira Roberts-Sankar, said YSAP has made significant gains since its inception. Through evaluation and recommendations from parents and facilitators, the decision was taken this year to experiment with the concept combining film and theatre with community field research.
"The programme planned to focus on a small community located on the southern coast of the island – Piaye – and we wanted the participants to experience firsthand the culture that's being kept alive by a young group of dancers and drummers to learn about their traditional dancing and drumming that have influenced our culture and way of life," Roberts-Sankar said.
Roberts-Sankar said this year's programme had "matured into something special and I believe the participants felt the same."
"Everyone worked incredibly hard to see this production come to life, and the production comes from a place of passion, motivation and commitment," she said.
With another YSAP closing its curtain to the delight of the students, organizers and many parents who showed up for Wednesday's performance, Roberts-Sankar said the importance giving young people more opportunities to grow and experience their culture and understand their identity must be both underscored and supported.
"The arts are fighting a battle to maintain their relevance in this country and we must be the voices to speak up for our culture and our arts," Roberts-Sankar said.
As rewards for their efforts, prizes were awarded to individuals and teams for exceling in various categories, including research, discipline and depiction of themes.