SAINT Lucia's men's team made light work of Dutch Saint Maarten on Sunday night winning by 3-0 to emerge champions of Men's Group D of the Norceca Zone FIFB World Championships Qualifiers second round for teams in the Eastern Caribbean Volleyball Association (ECVA).
The set scores were 25-18, 25-19, 25-16.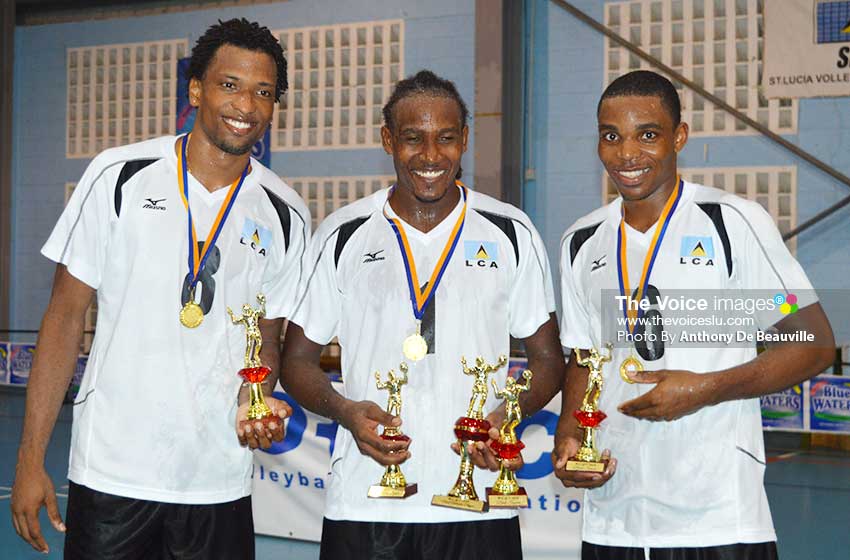 The games were held at the Beausejour Indoor Practice Facility in front of an appreciative crowd of about 200 fans.
With the win, the Saint Lucia team players have booked their ticket into the next round of competition in Colorado Springs, U.S.A., starting September 26.
For Saint Lucia, Joseph Clercent top-scored with 13 points while middle blocker, Tervin St. Jean, and outside hitter, Anfernee Ferdinand, each had 6 points.
Dutch Saint Maarten was led by RiegmarValies (opposite hitter) with 6 points and Leonardo Jeffers (opposite hitter) with 5 points respectively.
For the bronze medal, French Saint Martin defeated Anguilla 3-2.
French Saint Martin won the first set 18-25. The Anguillans rallied themselves together to level it at 25–21 but quickly went into overdrive to win the third 25-22 to take a 2-1 lead.
Going into the fourth, it was all to play for and French Saint Martin showed that they were no walkovers as they powered their way to a 25–14 win to level the scoreline and send the game into a decider which they won 12-15.
The set scores were 18-25, 25-21, 25-22, 14-25, 12-15.
For French Saint Martin, Rotilio Richardson top-scored with 13 points, Cedric Bilionniere (outside hitter) 12 points and Jeff Pierre (opposite hitter) 11 points.
For Anguilla, Sherwin Richardson, was the lone player for his team to reach double figures, scoring 18 points.
In awards presented, Joseph Clercent was deemed Most Valuable Player in the Men's Group D. Clercent was the Best Scorer with a success rate of 56.07% and was named one of two Best Outside Hitters. This was Clercent 4th consecutive MVP at that level of competition.
He led the way with 60 spikes and 6 blocks; his closest rival was Antigua and Barbuda's Sherwin Richardson (outside hitter) with 48 spikes and 5 blocks.
Saint Lucia also picked up two other individual awards. Sheldon Descartes walked away with the Best Server award and Tevin St. Jean was one of two Best Middle Blockers.
However, Anguilla collected the most awards — five. Topping the list with three was Kevin Gumbs, who was named Best Receiver, Best Digger and Best Libero.
Gumbs' countryman, Jeloni Lawrence, was listed as the other Best Middle Blocker. Anguilla's other award was snapped up by Ian Connor, who received the Best Setter trophy.
Completing the list of awardees was Riegmar Valies of Dutch Saint Maarten, the Best Opposite Hitter.
Meanwhile, in the morning match-up, the home team extended their record to 3-0 win/loss as they defeated Saint Maarten 3-0. Set scores were 25-19, 26-24, 25-19.