In Saint Lucia's Fight To Mitigate Climate Change Effects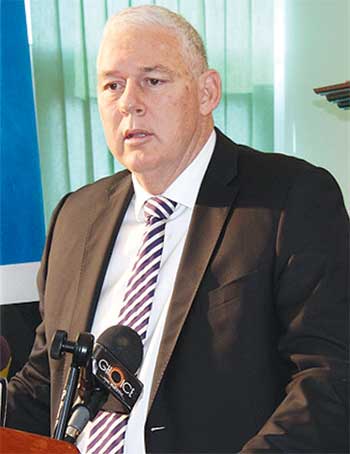 PRIME Minister Allen Chastanet has called on St. Lucians not to take for granted monies given to the country for infrastructural works.
He sounded the warning this week at a signing ceremony for the exchange of notes for Japanese grant aid of EC$35 million to the government of St. Lucia to reconstruct the Cul-de-Sac and Ravine Poisson bridges.
In underscoring the need to make more resilient to climate change the country's already expensive infrastructure, Chastanet said time is against small states like St. Lucia in their fight to build infrastructure capable of withstanding weather changes.
"It is very easy for us to continue to come to these signings of agreements and almost take it for granted what we are receiving (but) this project has the opportunity and potential to protect the lives and the assets of many people," Chastanet said.
The grant will also be used to widen the Cul-de-Sac River starting from the Cul-de-Sac Bridge all the way to the Ferrands Bridge.
"We are actually creating a second tier river, so the idea is to create banks along the sides of the river," Chastanet added.
Chastanet said the policy and strategy of government as it relates to climate change and its impact on the island's infrastructure has been and will continue to be a top priority.
St. Lucia, over the years, has had its fair share of natural disasters. The Cul-de-Sac basin has demonstrated resistance to all types of projects aimed at reducing flooding in the area during heavy continuous rains, threatening property and human lives in the process.
This time around, it is hoped that the project will be the one to make a difference in the lives of the people who live in the area during heavy and continuous rain.
The Prime Minister expounded on the difficulties Small Island Developing States (SIDS), like St. Lucia, face due to climate change. He said he wants developed countries to assist SIDS in their quest to combat the effects of climate change. He also spoke of attending World Bank and International Monetary Fund (IMF) meetings and how grateful he felt that those organizations have a feel for countries like St. Lucia.
"I am very grateful that both those organizations have chosen to have a setting for the small island developing states of the world. That was followed by the COP (Conference of Parties) meeting that took place in Marrakech (last November). I want to also recognize the work that was done by our predecessors in supporting the climate change agreement at COP in Paris (in 2015) in which we formalized the recognition that climate change is real and a roadmap for how the world intends to be able to deal with the problem. In the roadmap, the world gave itself a challenge to raise 100 billion dollars to go towards mitigation and funding adaptation," Chastanet said.
According to him, this had been stymied by recent decisions by the United States in relation to the Paris Agreement and that some of the SIDS, Saint Lucia included, are proposing alternatives to get assistance for critical infrastructural projects that help with adaptation.
"One is exactly what is taking place here today where the Government of Japan, through JICA (Japan International Cooperation Agency), is making a bilateral contribution to Saint Lucia in a project that is a critical infrastructural project. What we would like to see is Japan being given a credit for that contribution," Chastanet said.
He continued: "I am going to keep pounding on the table and letting my voice be heard explaining that the SIDS cannot wait. There is no greater example of that than what took place in Haiti. After the earthquake in Haiti, where over 250,000 people were displaced, there needed to be greater expediency in solving that problem. Did we not know that Haiti was in a hurricane belt? Did we not know that there was clearly a trend of increasing storms? That all we needed was a trough? What took place last year, the world and all of us must bear responsibility for. The Haitian people were left to confront one of the strongest and most devastating hurricanes we have seen in a long time with cardboard boxes," Chastanet added.