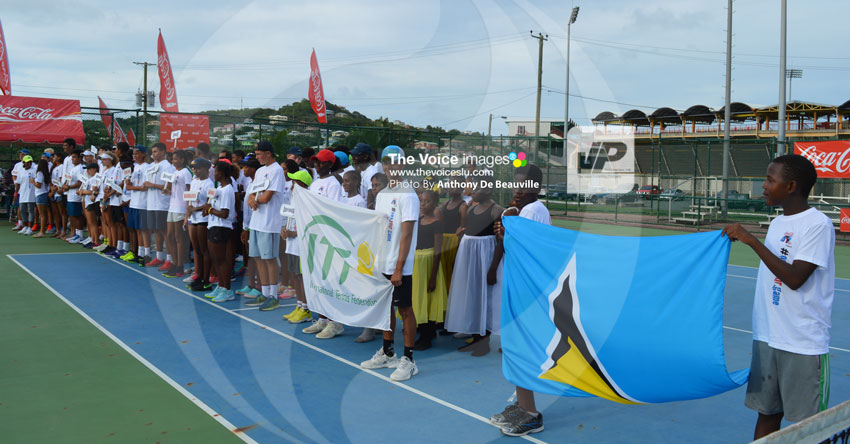 THE 34th edition of the Coca Cola International Junior Tennis Tournament served off at the National Tennis Centre in Beausejour, Gros Islet yesterday from under clear skies.
This year's championship has attracted a combined 110 male and female players representing 22 countries, including 21 from Saint Lucia.
On Sunday afternoon, the official opening featured addresses, songs and a dance by the under- 12 players.
The tournament is considered one of the longstanding tournaments on the island.
Master of ceremony, Anselm Mathurin, lauded WLBL — agents for Coca Cola — for their longstanding commitment to the development of the sport in Saint Lucia.
"That Coca Cola can continue to support this tournament over the years with no tangible returns on their investment is testament to their genuine desire to develop the sport locally," Mathurin said.
Brand Manager for Coca Cola, Sharlene Jn. Baptiste, said, "WLBL and Coca Cola have been committed to sports in Saint Lucia and we encourage other corporate entities to do their part in developing the sport of tennis."
Parliamentary Representative for Gros Islet, Lenard Montoute, pledged continued support from the government for the Tennis Center as they continue to have one of the best-maintained sporting facilities on island.
On court on Day 1, the following matches were played in the Girls 18s: Tangia Riley-Codrington (Barbados) played Rishita Vyas (India), Jennifer Kida (USA) versus Dara Sidoine (Saint Lucia), Valaine Clarke (Jamaica) versus Anya King (Trinidad and Tobago), Afiika Smith (Bahamas) versus Abigail Jones (Trinidad and Tobago), and Emnet Simunyola (USA) versus Meggan Williams (Saint Lucia).
Jean Phillipe Murray, who recently returned from the Commonwealth Youth Games in the Bahamas, started Saint Lucia's charge in the Boys 18s. He took on Jorge Daniel Chevez of Panama (No. 8 seed).
Osenyyone Nmokolo (Trinidad and Tobago) played against Karina Jensrud (Norway), Robert Hayden (Barbados) played against Cristian Stefano Perez (Venezuela), and Anuj Watane (USA) played against Simon Desir (Saint Lucia),
The tournament enters day two with another round of matches which also include play at the Kenneth "Wriggler" King Multi-Purpose Court located at George V Park (affectionately known as "The Gardens).