INTRODUCING Martinique – nicknamed "the island of flowers" by Christopher Columbus. Home to the infamous Mount Pelee, this department of France is located to the immediate north of Saint Lucia.
Colonized in 1635, the 1,128 square kilometres of mountainous terrain is blessed with fertile land, with approximately 44% of that land identified as forests or woodland area. Martinique, like other islands in the archipelago, enjoys a tropical climate with two seasons: dry and rainy.
Much of the elements of culture in the Caribbean are deeply embedded in historical and colonial roots. Our food, language, dance and forms of clothing are not unique. They were formed and evolved from the remnants of a people ripped apart by the political gambles of the European Metropolis. When the shackles were loosened, a vibrant display of West Indian style, coupled with taboo rituals of occultism, emerged in many territories.
Although census figures show that Catholicism remains the dominant Christian denomination in Martinique, Saint Lucia, Guadeloupe and Dominica, historians and anthropologists continue to highlight the presence of beliefs in sorcery. While many continue to cling to fundamental Christian beliefs, others visit witch doctors regularly in order to find explanations for tragedies and blessings in their lives.
Saint Lucia continues to enjoy a mutually beneficial relationship with Martinique. Favourable diplomatic relations allow Saint Lucians to visit Martinique without a visa for fifteen days while Martinicans continue to enjoy St. Lucian carnival and shopping excursions.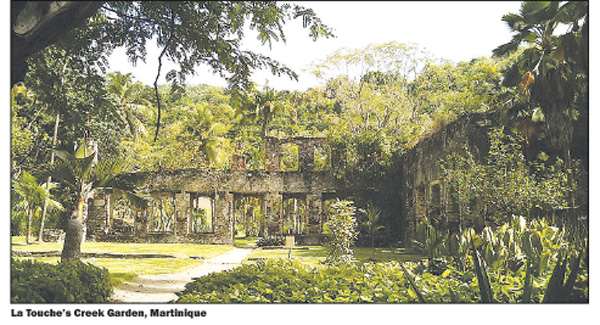 Neighbourly GetAways
By sea, we're taking the L'Express des Iles. By air, Air Caraibe or other airlines. Get your ticket and travel medical insurance and you're off. Experience Eden-like bliss in Martinique with a visit to Latouche's Creek Garden. This location is perfect for discovering new flower species, colours and shapes. Take your camera with you and document your experiences in your journal for future reference.
Let's Go Shopping!
Calling all shopaholics! We introduce to you this week La Cour Perrinon – a modern shopping centre located in the heart of Martinique. This air-conditioned mall is home to a bookstore, an electronic store, several banks, a food court, a plethora of exotic retail outlets and a small grocery shop. This is, undoubtedly, the ideal shopping location – all your needs and desires in one perfect location. Go ahead!
Martinique has been hailed by many as France's tropical runway and we invite you to take the free time in your vacation schedule to greet the stores on Rue Victor Hugo in Fort de France. Ready! Set! Go!
Walk in and greet the latest couture from French designers, Roger Albert and Christian LaCroix. Accessorize with the finest in fascinators, wigs and exotic weaves from stores which specialize in hair products. Finish up with classy styles from well-known shoe guru, Christian Louboutin. We have a long way to go to get this closet looking fit for a 21st-century woman with an eye for fashion. Live a little! Shop a little!
History
Historical note: On January 4, 1935, truly the first commercial flight to the Caribbean, Seaplane Latécoère 521, left Paris for Martinique with 30 passengers headed by Lieutenant Paris. Get to know your neighbours!
A bit of the French for the Visitor
Les Voyageurs/Travellers
• Information touristique: tourist information
• La carte: map
• La douane: customs
• Le passeport: passport
• La gare d'autobus: bus station
• Billet aller-retour: round-trip ticket
• Je voudrais louer une voiture: I would like to rent a car
• C'est combien: This is how much?
• Dois-je payer par kilomètre: Must I pay per kilometer
• Je voudrais payer avec une carte de crédit: I would like to pay by credit card
• Je voudrais payer en espèces: I would like to pay by cash
.meta-author {display: none;}