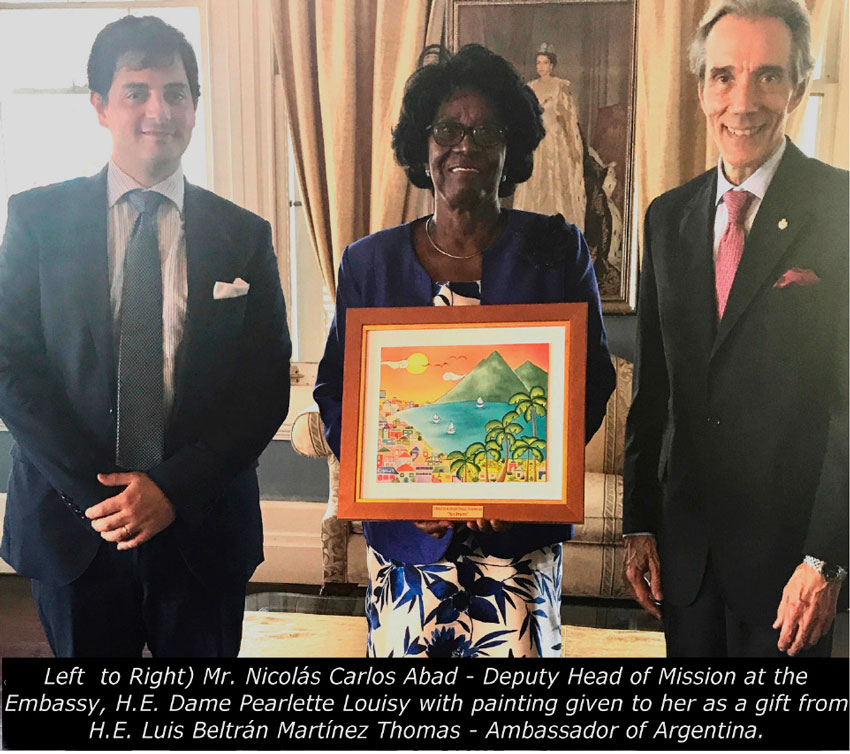 ON Thursday, July 27, Luis Beltrán Martínez Thomas, Ambassador Plenipotentiary and Extraordinary of the Argentine Republic to Saint Lucia, accompanied by officials from the Argentine Embassy in Saint Lucia, visited Dame Pearlette Louisy, Governor General of Saint Lucia, in order to inform of the end of his tour of duty and return to Buenos Aires.
Ambassador Martinez Thomas expressed to the Governor General the pleasure of having lived almost four years in this beautiful country while thanking the people and the government of Saint Lucia for the warm reception that he received since his arrival.
Ambassador Martinez Thomas presented his Letter of Credence to the Governor General on October 17, 2013 in Castries, being the first resident Ambassador of the Argentine Republic on island.
Throughout his tour of duty, he opened the Embassy and has overseen various cooperation projects between the Argentine and Saint Lucian governments in areas including, but not limited to, agriculture, biotechnology, food safety, civil aviation and foreign national service. He also hosted on various occasions cultural exchanges with Argentine gastronomy, art, film and dance which were shared with the public.
In the absence of Ambassador Martínez Thomas, and until the designation of a new Resident Ambassador of Argentina to Saint Lucia is appointed, Embassy Secretary Nicolás Carlos Abad will act as Chargé d'Affaires.