SOME genuine cricket pundits have described him as the next big name in West Indies cricket while others say he is a special one who will go on to break a number of cricket records at the highest level.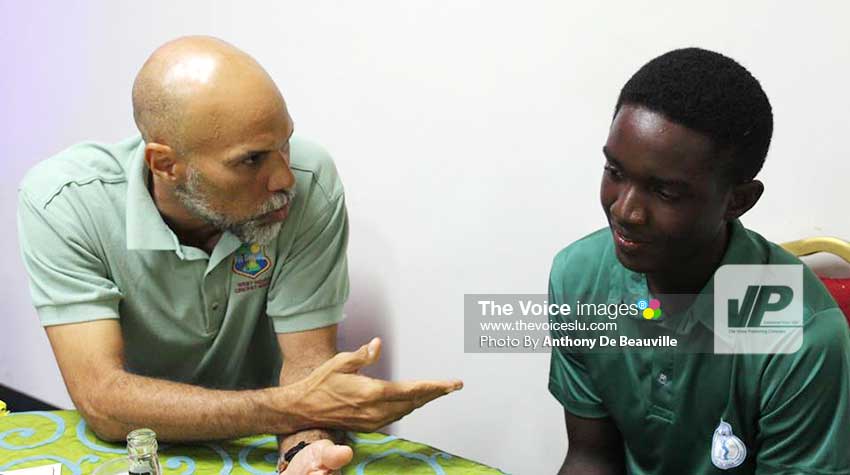 Kimani Melius, who resides in Boguis, is soft-spoken by nature, has a very good sense of humour and will enter Form 5 at Babonneau Secondary School in September.
The Windward Islands/Saint Lucia Under-19 opening batsman was all in smiles as he finished the WICB (CWI) Regional Under-19 3-Day Cricket Tournament held in St. Kitts with the most runs. In fact, he was the only batsman to reach 400 runs.
The 16-year-old prolific right-handed batsman, who is also a wicketkeeper, finished the tournament with a whopping 441 runs at an average of 44.10 per inning.
He scored a century (109 versus Jamaica) and 4 half centuries. He scored 51 against Jamaica, 68 against the Leeward Islands, 77 against Guyana and 52 against Barbados. The century against Jamaica was the 22nd in his promising career.
Presently, Melius does his cricket training and development with the WICB Northern Cluster Grassroots Cricket Programme.
To date, he has the highest score by any Saint Lucian cricketer (275 versus CARE in the Massy Under-19 schools tournament).
In 2015, he created history when he became the youngest male cricketer from Saint Lucia to make his debut in the Windward Islands Senior Men's Tournament.
The VOICE spoke with Coach Alton Crafton, who has done tremendous work with Melius for quite some time. According to Crafton, Melius had a prolific 2017 season, dominating the Babonneau District Representative T20 Tournament.
"He learns very quickly, so the skill training isn't a major concern," Crafton said. "But one of the main areas he needs to develop is his mental toughness, (so as) to cope with external pressure."
"Based on what I am seeing in him, and what I see around the region, I have no doubt that with the right support and guidance, he will be a household name in West Indies cricket soon," Crafton added.
Crafton said Melius has the desire to excel and reach the top, as well as a deep love for the game, especially batting.