Alden "Spoiler" Raphael of Gros Islet Police Station edged out a dozen other calypsonians last Friday evening to capture this year's Kaiso Headquarters held at Central Point (the vacant lot where Central Police Station was located previously).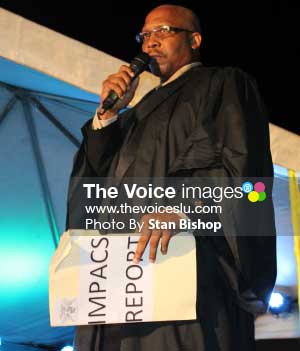 His song, "Kit Inspection", was composed by Callix "Kakal" Xavier and Wulstan "Walleigh" Alfred and arranged by Ziggy James. The song speaks about the fallout from Operation Restore Confidence (ORC), which resulted in the police force being investigated following the shooting deaths of nearly a dozen civilians.
"The song speaks about the ills of ORC (Operation Restore Confidence) and how we faced it as police officers," Raphael told The VOICE following his recent win.
Raphael, who won the competition last year with "Organ Donor" (also written by Kakal) has now won the title a record fifth time in the competition's 12-year history.
One of the catchphrases in the song – "for kit" – sent patrons into a frenzy during his performance at the rain-affected show. However, Raphael said that while the wordplay would have proved useful, he needed to explain its context.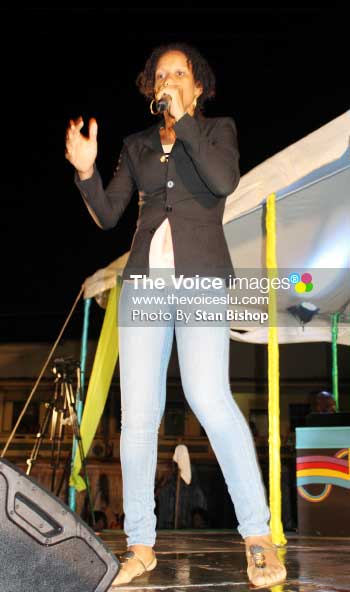 "The song speaks about a kit, which is what police officers are issued with when they're at training school and when they're on their course of duty," he said.
"Someone said they heard the song on the radio and could only understand now from a police angle what ORC was about," said Xavier. "This is what we try to bring out to people, so that they could understand that police officers are just like everyone else: we have our wives, our kids and we have people who could falter, too, just like any other person."
Bridgette "Lady Poxy" Algodel of Police Complaints Unit placed second with "No Mistaken Identity" while Sabrina "Siwo" Smith of Vieux Fort Police Station) placed third with "A Good Man".
According to Xavier, working with Raphael has been a smooth journey for many reasons and he looks forward to teaming up with the multiple-winning calypsonian who has intentions of taking his talent to the 'Big Yard'.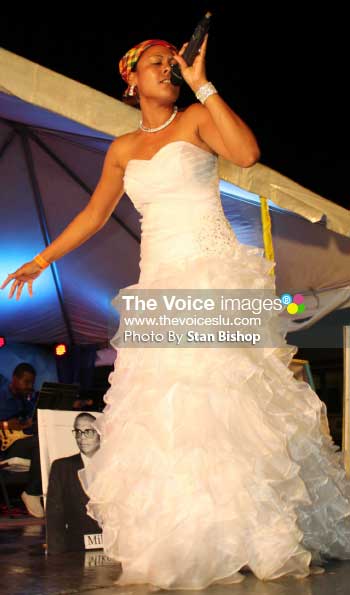 "Spoiler is a very easy artist to work with," said Xavier. "He takes criticisms (well) and tries to improve himself. This is how we build cohesion as artist, writer and manager. He's a wonderful person to work with and I hope the relationship continues."
Having been a calypsonian for over a decade now, Xavier said that whenever he pens a song, the audience has to listen to it several times in order to figure out what angle he's coming from.
"I like the ambiguity, creativity and poetic elements of writing songs," he said.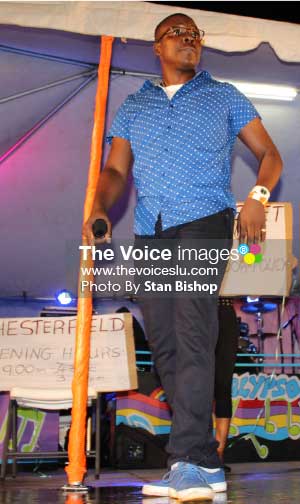 The win for Raphael means that he (as does Lady Poxy) gains automatic entry into this evening's Inter-Commercial House Calypso Competition. He intends to step things up a few notches and win back to back as he did last year when he won both the Kaiso Headquarters and Inter-Commercial House Calypso Competition.
So, excellent and title-winning songwriting skills aside, can soca fans expect to see Kakal return to the soca stage where he was best known for hits like "Bomb Song", "Kote Kado", "Bla Bla Bla (Lang Kaka)", "Party Mashuppers" and "Coco Ek Patat"?
"I'll have to think about it a lot because I realize that the culture of our music down here is not inviting at all," he said. "I've performed for several years and then you'd get DJs at the radio stations telling you that they prayed you were off the radio within two years."
Other competitors in this year's Kaiso Headquarters were Nathan "The Counselor" Timaitre, Belladina "Bella" Emmanuel, Ernesta "Ernie G" Gaspard, Robin "Ricochet" Samuel, Marva "Epee" Epiphane, Andrad "High Tower" Felix, Colin "Dr. Theory" Vidal, Gary "Mighty GP" Pierre, and Gloria "Queen Molasses" Edwin.