THIS is another in a series of articles intended to expose our readers to pertinent information regarding their fitness efforts. It is produced mainly on the basis of research done by Rodriguez "Rodja" Constantine. Rodja is a Fitness Consultant and the owner of REPTS.
Invite a Buddy: Workouts Are More Effective When You Partner Up
Many people exercise with a friend. This often means they spend their time leaning on the machines, sharing smartphone videos, and talking about their workout plan. But that's not the only way to team up on the gym floor. In fact, a Kansas State University study reveals that partnering can boost your workout intensity. This is particularly true when someone perceives their workout partner as faster, stronger, more in shape, or more dedicated about fitness. A recent article in Men's Fitness affirms this research.
Here are three key benefits to coordinating your workouts with a better, faster, stronger (or maybe just more fun) companion:
Benefit #1: Maintain your motivation.
It's 5:15 p.m., and you'd much rather go home, play with the dog, and order in some dinner than workout. But Susie is meeting you at the gym at 6; you've already told her not to let you off the hook for any reason other than a work emergency. Furthermore, once you're there and getting into it, having her there to emcee your progress can make a world of difference.
Benefit #2: Push your workout intensity to the max.
Fitness aficionados often use the term "intensity" loosely when it comes to their workouts. But whatever the measure, working out with a partner encourages everyone involved to push himself or herself a little harder. This could mean a longer workout time or increasing your resistance. The upshot: Doing consistently more intense workouts can boost results over time.
Benefit #3: Gain a consistent spotter.
Pushing yourself at the gym poses obvious safety risks—particularly when you're using heavy weight on the bench press, squat, or military press. Acting as a spotter, your buddy just won't let you drop 300 pounds on your chest or get buried under a heavy squat. At the same time, you don't want a spotter who is going to grab the weight from you before you've reached your limit. It's a subtle balance that a regular lifting partner can learn over time.
Benefit #4: Keep your workout honest.
A partner can help assure that you don't get distracted or rest too long; sacrifice form for quantity; sacrifice quantity for comfort; and that you maintain your maximum training intensity throughout the entire session – from start to finish.
Though these are the key benefits of partnering up, we're sure there are more. Feel free to share them with us on Facebook at https://www.facebook.com/repts.fitness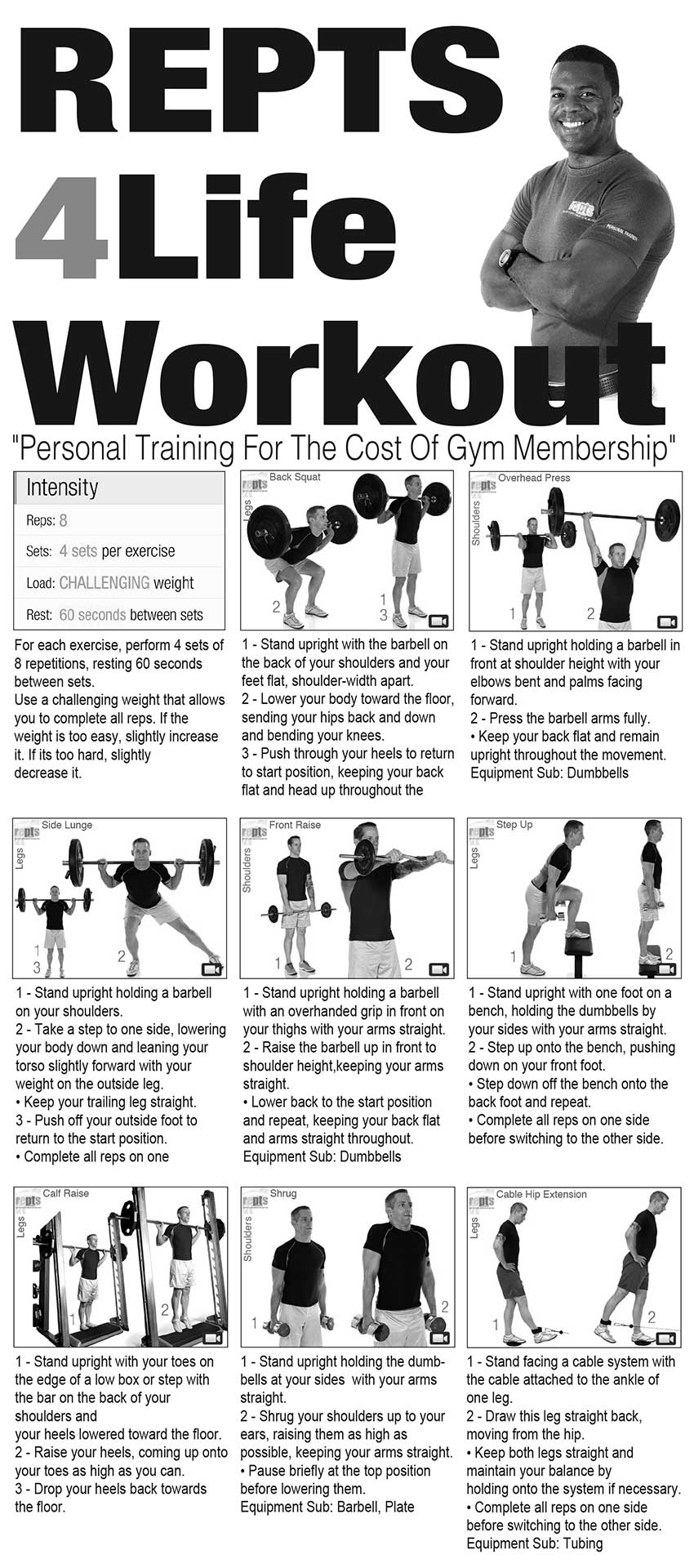 Keeping on your fitness game–with or without a personal trainer– is easier than ever with Repts4Life workouts. here's a fitness program to help you shed unwanted pounds, trim excess body fat, and sculpt a lean body. Personalized programs are also available for a nominal fee. REPTS is located on the Gros Islet Hi-Way in Rodney Bay (opposite RJ Clarke). Call 758-722-3763 for details and to schedule a FREE consultation and trial session. You can also visit repts online at reptsfitness.com or on facebook at facebook.com/repts.fitness