VENDORS who were recently removed from the sidewalks outside the Ave Maria Girls Infant School along Micoud and Coral streets have made their presence felt in the areas near their original locations.
Many of the vendors have literally set up shop along Broglie Street and have left no space for pedestrians to traverse along the designated sidewalk.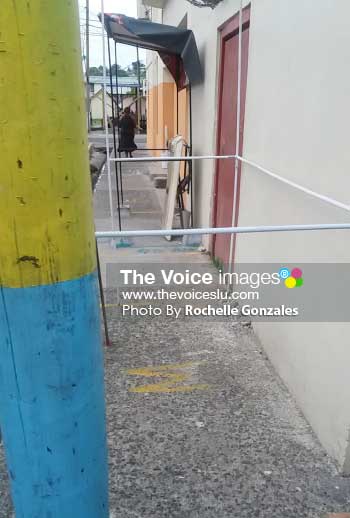 Some of the vendors have even gone to great lengths by securing their imposing and protruding metal structures with concrete so that they cannot be removed.
The VOICE spoke with the Castries Mayor, Peterson Francis, seeking his comment on the matter. Mayor Francis explained that he was aware of the situation and was in the planning stages of creating a short-term solution of relocating the vendors and supplying them with relief structures that could be mounted and dismantled daily.
He said: "Our long-term goal is to get everybody under one roof; in other words, you go to the market and you get everything. So we're just asking St. Lucians, please, you know that I'm a man of my word, give us a chance to try to put these things in place. But for sure, the structures will come down; it's not if they will, but when they will."
Mayor Francis said in this case, the CCC is villainised for trying to solve the issue.
He said: "Before you try to do something about it, it's their right. What do you expect them to do? Where do you want them to go? But in the first instance, you never put them there, you found them there, and I have a fundamental problem with that. They could go and put themselves anywhere, but it's my responsibility to find a better or suitable place for them. But they don't have dialogue with anyone when they put their things wherever."
The Mayor pointed fingers at the President of the St. Lucia Vendors Association, Peter 'RasIpa' Isaac, saying that he should have played an active role at reining in the fellow vendors, as well as speak to them against erecting such structures.
According to the Criminal Code under the title "Nuisance" which runs from Sections 480 – 496, Section 493 of the code states:
Things for sale projecting into or over footway in city or town
"A person who, places, hangs up, or exposes for sale in any city or town any goods, wares, merchandise, matter, or thing whatsoever, so that the same project or projects into or over any footway, or beyond the line of any house, shop or building at which the same is or are so exposed so as to obstruct or inconvenience the passage of any person over or along any footway, is liable on summary conviction to a fine of $1,000."
The Mayor said it is time to put a foot down and stamp out the problem.
He said: "I believe St. Lucians are being over-educated and over-informed. What we need in this country now is enforcement."
He also asked for the help from the media and the public themselves, saying that "everything you do, people threaten you, but the job had to be done, and I don't have a problem with that. The media and the public have to make their voices heard to signal that it is not right. Do not leave it on the shoulders of one man."
The VOICE also spoke to Isaac, who said that while he completely agrees that the metal structures should go, the problem should be blamed mainly on the CCC.
Isaac said when the Mayor ordered the removal of the metal structures outside the school, it was a perfect opportunity to start a movement to prevent the structures from ever being erected elsewhere.
He said: "It was the City Council who call themselves the regulator, who has to see to it that by removing people from one situation where they were hazards in one area, that they will be a hazard in another area. So they should regulate this thing so that it doesn't even start in terms of people trying to put these things up in that way. If they allow people to put it up that way, obviously they will."
He went on to say: "It's the Council that has to stop it and nip it from the bud, and let them know that this is not going to be acceptable. If you take them out from one area with these metal structures and you're putting them in another area where they're putting metal structures, and even putting concrete onto the sidewalk, to me that's a worse situation."
Isaac said the situation has worsened. He said: "You can't expect to take them out from this area where they had these metal things protruding out there. That was a hazard and I agree with that. But to take them out and put them on that narrow sidewalk there, that means that there is no sidewalk for pedestrians to traverse the streets. I mean, this is absurd."