PRESS RELEASE – THE CDF issues an open call to visual artists to participate in a photography competition to select work for the annual emancipation exhibition. This year, the focus is on photography and the competitor's entries must be based on this year's theme for emancipation. Four of the best entries will be showcased in an exhibition in the north of the island.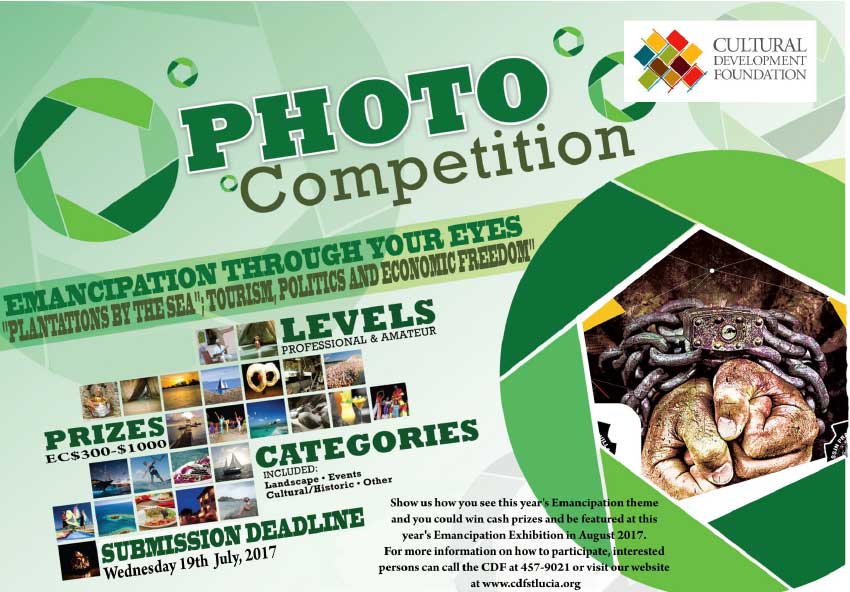 Entry requirements are as follows:
Entrants must submit FIVE photos based on the 2017 theme for emancipation: "Plantations by the Sea"; Tourism, Politics and Economic Freedom. ("These New Plantations By the Sea", from Derek Walcott's White Egrets, 2010).
Digital entries must be sent to the CDF via email (info@cdfstlucia.org) or brought in on USB drive and must be in jpg, jpeg or tiff format, minimum 300 dpi.
Entrants must be Saint Lucia nationals or residents of Saint Lucia.
The work must be original and should not have been previously published.
All FIVE photos: digital and/or hard copies must be sent and or brought in to CDF by July 19, 2017.
All hard copies of photos must be framed to a finished dimension of 16 inches x 9 inches.
Registration fee of $20 (to be paid at the Cultural Development Foundation).
Judging Criteria
Technical Skill/ composition/ use of light/ Background – 40 points
Interpretation of theme – 50 points
Originality – 30 points
Quality of photo – 40 points
Colour and Creativity -30 points
Impact /on page and on screen – 40 points
Creation of a story- 30 points
The four selected entries will receive cash and prizes
1st place — $1000
2nd place — $500
3rd place — $400
4th place — $300
Registration forms can be downloaded from CDF website (www.cdfstlucia.org) and Facebook page (www.facebook.com/Cultural.Development.Foundation)
All forms must be brought to the Cultural Development Foundation at Barnard Hill, Castries to complete the registration process.