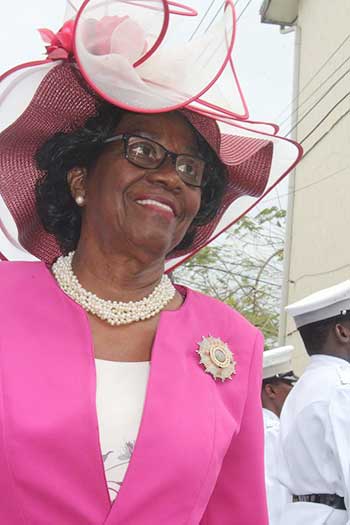 THERE is just something homely about today's WOTW that makes me see her as a dear and much loved grand aunt in my mind, even though I don't know her personally.
Here, you have a woman who is nothing but class, humility and elegance, and is also one of the people who, I, like the rest of the nation, see as a national symbol of pride.
Although she needs no introduction, I will just say that I am referring to our Governor General, Her Excellency Dame Pearlette Louisy.
Looking at Dame Pearlette's record, there is so much that one can write about her that not even two or three books would be sufficient, but I would like to try to honour her in my short WOTW section as best as I can.
Most of us, if not all, know the facts about her, like the fact that she was born in the village of Laborie, is a former St. Joseph's Convent student, is a former educator and principal of the Sir Arthur Lewis Community College and has a list of degrees and honorary achievements as long as my arm, including Honorary Doctor of Laws (LLB) from the University of the West Indies.
We also know that she is the island's first female Governor General after being appointed in September 1997, and has since continued to work arduously in small state issues.
But with all that aside, my Governor General is not the WOTW because of all that she has achieved; she is my WOTW — if not the year — because of that very same humble and homely side of her that I mentioned in the beginning.
Dame Pearlette is undoubtedly the glue that unites the entire nation and regardless of political view, partisan preference, race, class or creed, she is widely loved and respected by all who know of her.
Her humility knows no bounds, just like my fond memories of her, whether it be from listening to her meaningful yet humorous and down-to-earth speeches, or from interacting with her during impromptu, off-protocol moments, like the time when she sat next to me and a colleague to grab a bite to eat and have a quick chat following a conference at the Union Orchid Gardens.
I've always wanted to pay homage to the Dame, but always felt intimidated, because after all, it's Dame PearletteLouisy. But it all came to a head during this year's Throne Speech that I caught myself watching and listening intently to her words, observing her clothing which was flawless as usual, and laughing at her jokes as she delivered laughter during a time that was so full of tension. I felt that now is the time.
I can only hope that she reads and appreciates this little piece (Now that would make my day).
I especially love the fact that while one would expect the representative of the Queen of England to bear that stiff upper lip, and walk with an untouchable air, Dame Pearlette is quite the opposite, which is enough to make even those who strictly oppose the monarchy warm up to her.
What's even more heart-warming is her genuine love, pride and concerns for her country and culture, which she has shown time and time again with her active roles in education programmes as well as the performing arts, the creative industry and any programme that promotes the local Creole culture and language.
That alone in my book is a win and is worthy of respect and honour.
Yes, I know that this is not the typical WOTW piece; it is instead a small ode to the Dame. But I would just like to end by saying that although she was nominated as International Woman of the Year by the International Biographical Centre in 1998, for me and the rest of St. Lucia, Dame Pearlette Louisy can undoubtedly wear the crown proudly as St. Lucia's WOTC…Woman of the Century.